Bohrer Gallery
Fine Art at the Magnolia 2021
Presents
Bruce Ferguson
on Dance, Negative Space, and Florida's Vanishing Wetlands
Aug. 13, 2021
Ferguson in his Studio
photo credit: Zoe Alexander
I often listen to music as I paint. Blues especially, because it slows me down a bit. Lets me be more intense. Hard rock knocks me around too much. I've started painting dancers this year. My niece has been sending me photos from her dance classes in New Orleans, 20 or 30 at a time. I always get them printed -- I never look at them on computers because I prefer the hard copy of everything.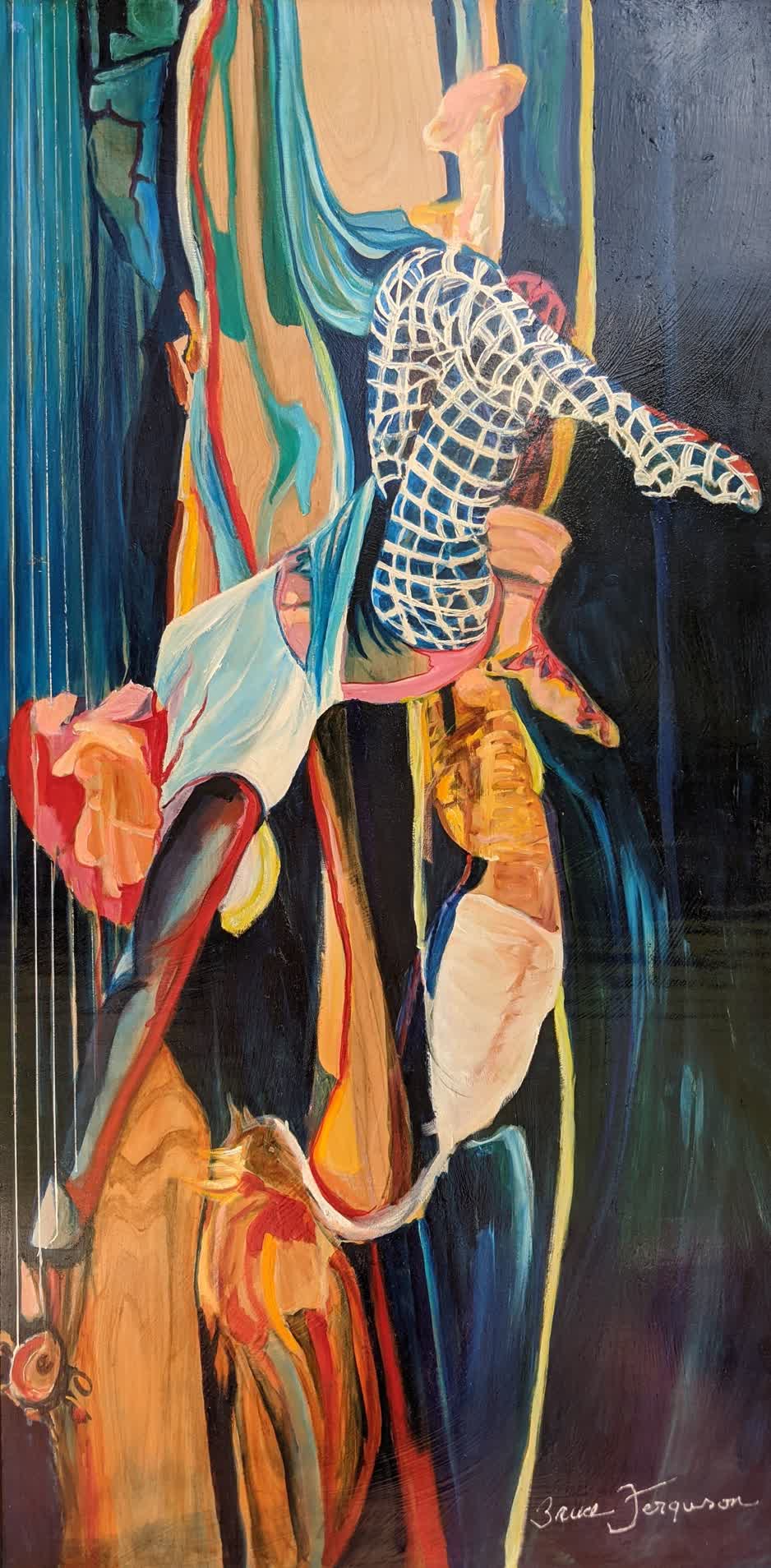 'Topsy Turvy', by Bruce Ferguson
She's dancing with silk, doing arial acrobatics. She sent me these pictures and I thought, "I have to paint this!" It's so striking how the silk ribbon blends with the mangrove roots, my usual motif, and I realized that I could incorporate those two elements. And this was such a good study in figurative movement, because she's dancing! She'll move from being wrapped within, to dropping down to almost hitting the ground. That's what I'm trying to capture.
Bruce's Notebook and Dance Photography
photo credit: Zoe Alexander
My niece is so excited to be featured in my paintings. Super happy. I told her: "don't think that it's gonna look like you, I'm abstract." Especially in the background and in the face.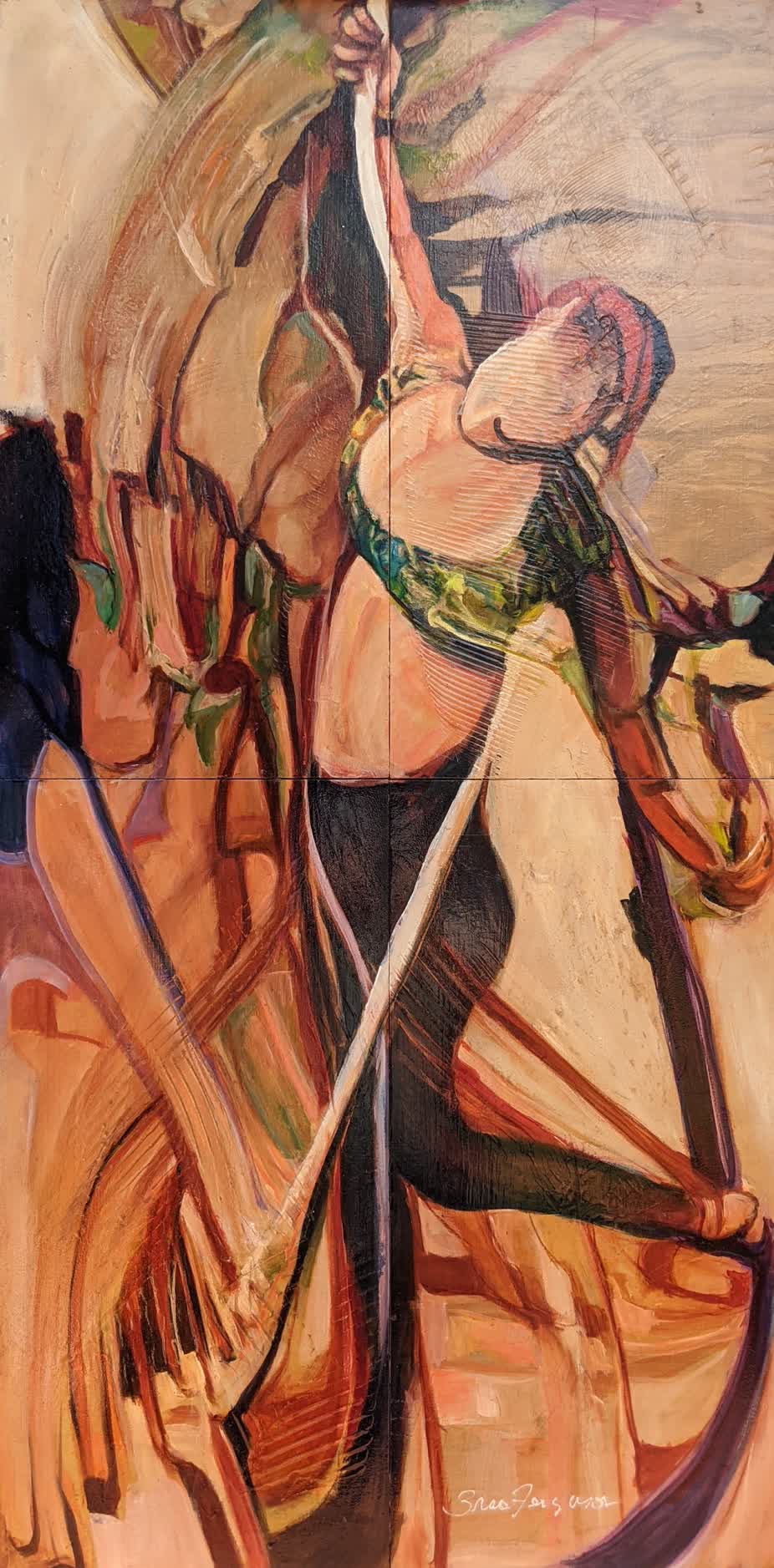 'She Wades Through', by Bruce Ferguson
I've done human forms before, but always in disguise. Even when I'm painting natural scenes, double images are always in my subconscious. Sometimes they appear in the water, or the coil of a vine.
She sent me these pictures and I thought, I have to paint this!
I paint directly on birch panel, and I let the grain become part of the painting. The natural features of the grain are significant to me, the negative space becomes the positive space. In the grain, as a double-image, I begin to see the subjects of the painting: mangrove roots, beach, sand, human features.
FAM2021 Date and Location
I apply the paint to create a push-pull between these subjects, using the paint to draw connections between the elements, bringing this to meet that. The images pop out as I find them, they aren't hidden anymore. Though I work quickly and with coarse materials -- palette knives, q-tips, and paint right out of the tube -- I take care not to get a single drop of paint on the outer edge of the board, so you can see the grain continue from the edge right into the painting.
Detailed Brushstrokes -- Bruce Ferguson
photo credit: Zoe Alexander
All the while, the prop roots of the mangroves are always present. Whenever I get lost in a painting, I know that I can always get back to the mangrove forest, and those tropical colors that I love. I've never had anyone say it's boring.
To stay in touch with the wetlands, I photograph the mangroves in the protected marsh next to MacDill Air Force Base -- this lost area that they can't mess with. They're building all these new houses around it, for 500k a plot, and it's my source! I've often depicted the saddening, destructive things I've found in the wetlands, like barbed wire.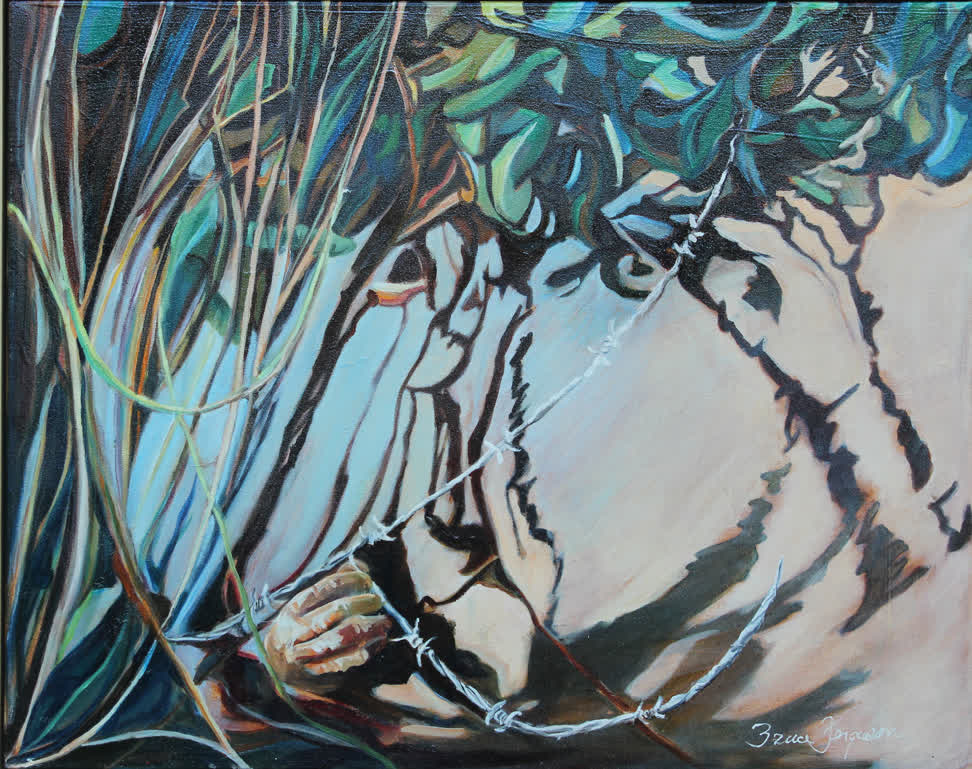 'Barbed Barrier', by Bruce Ferguson
That's what I'm currently working from. I see the weave of the mangroves outstretched like a human hand and I want to grasp it, offer a consolation. I'm not staying in one place, trying not to, but I don't know where I'll go from here.
Signature -- Bruce Ferguson
Founder and Curator.
Zach Weatherby, Web, Journal, and Accounts.
Zoe Alexander, Film and Media Director.
Ridley Aligerum, Marketing and Graphic Design.

With gratitude to the City of Lakeland department of Parks and Recreation, the Polk Museum of Art, the Polk Arts and Cultural Alliance, and all of our artists, patrons, and guests.
Betsy Bohrer,