Bohrer Gallery
Fine Art at the Magnolia 2022
Presents
Barbara Umbel
on Color, Teamwork, and Making it all Sing
Aug. 13, 2022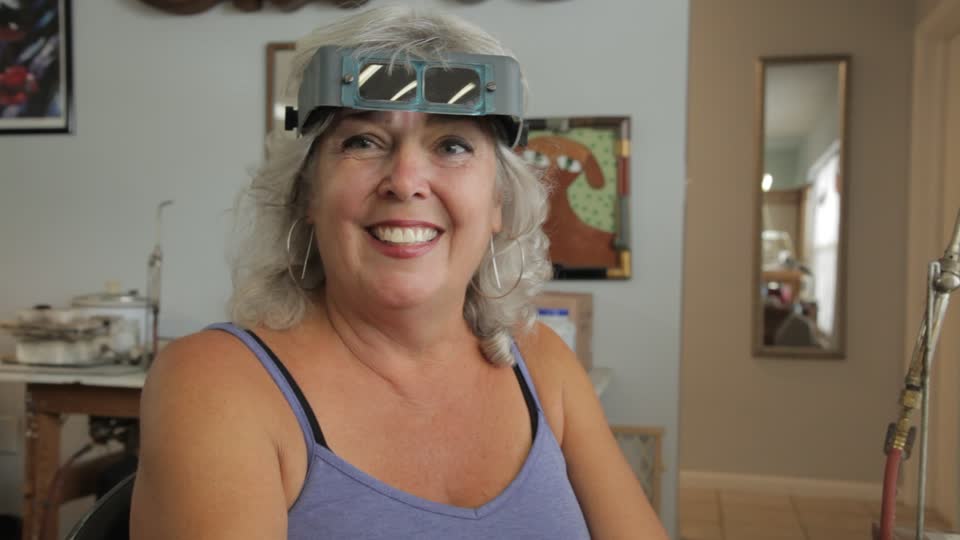 Barbara in her Studio
photo credit: Zoe Alexander
I am all about colors, and bringing out the shades in my pearls and seashells by selecting different metals, gemstones, and beads. Early on, as I was looking for sources of color, I knew I didn't necessarily want to use just a bunch of stones because lot of people make jewelry centered around gemstones. So I started looking at all kinds of natural objects.
I enjoy combing my local beach at Indian Harbor. It's great, we have a rocky inshore reef and a lot of shells get trapped there. I've found black scallop shells and moon snails and all kinds of cool stuff like bittersweet clam. My jewelry eventually developed from foraged shells to exotic shells, especially "satellite" sea urchins which I import from South Africa, because I love their green color and really cool pattern.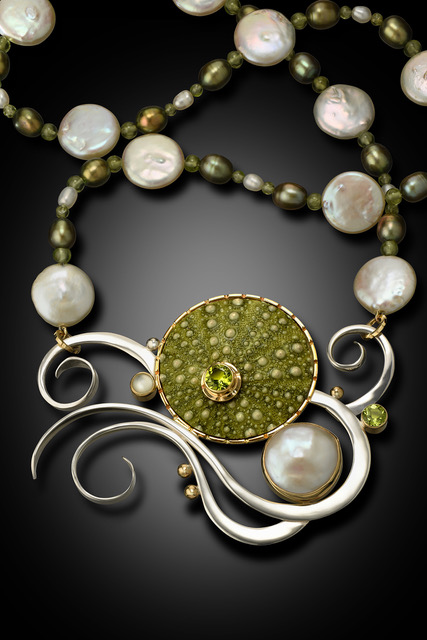 'Argonaut Necklace', by Barbara Umbel
When I was apprenticing to be a goldsmith, I worked in 18 karat gold which is very pretty. But it's also very yellow, and for a while I felt it clashed with my seashells because most of them range towards the pinks, blues and purples. So I switched over to 14 karat gold, which is not quite as yellow, and I compliment with silver and the occasional accent of pink pearl or blue topaz. I feel this sets the shells very well. It's kind of like making a collage, if collages were made out of precious metals.
My husband and I have been working together since we got married, about 22 years ago. I've trained him in all the basics of jewelry and it's been awesome, we make a great team. We like all the different aspects, the making, the traveling. We've been all over the United States together, and between the two of us we really get things done.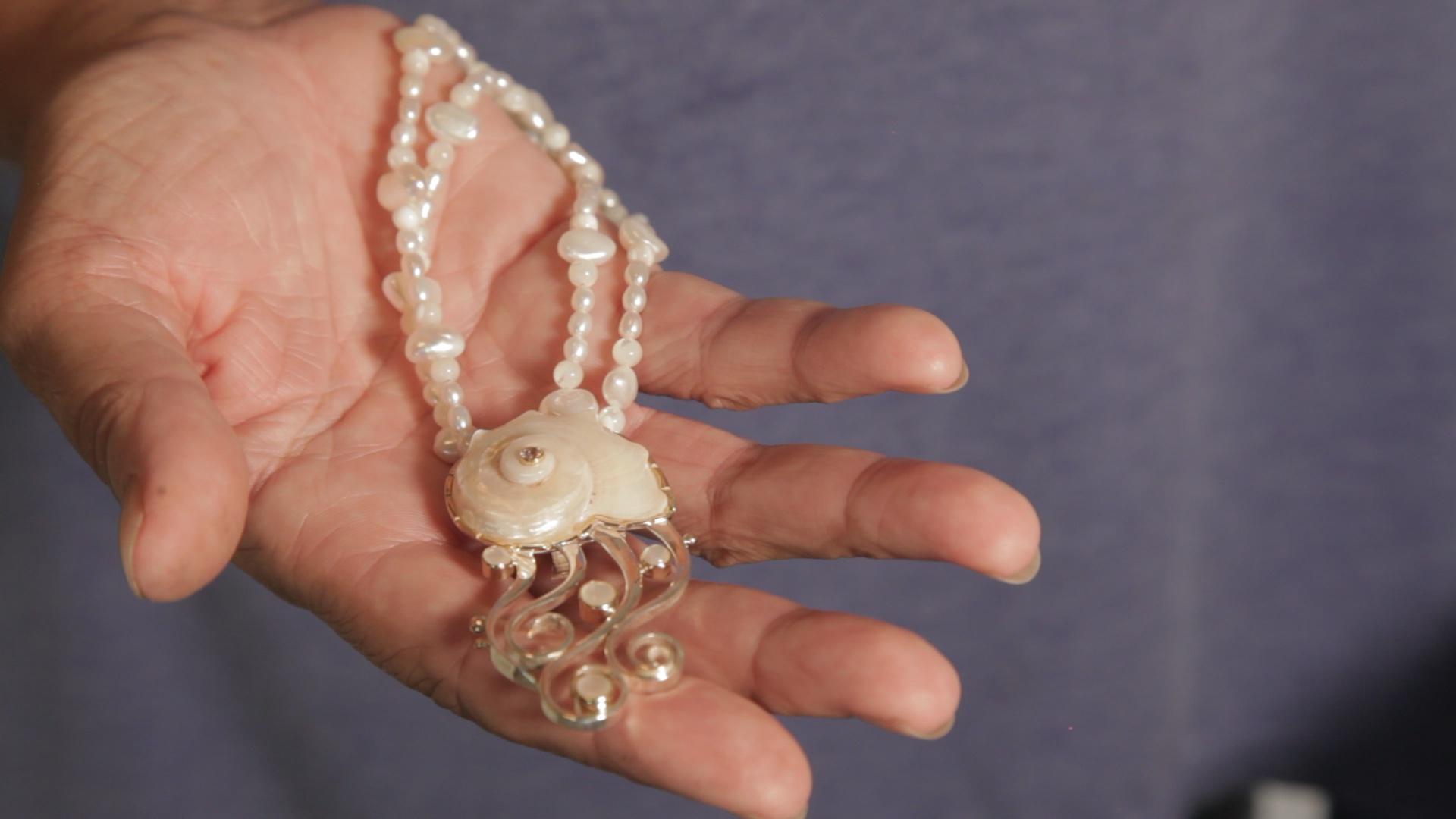 Barbara Holding a Seashell Pendent
photo credit: Zoe Alexander
Teaching my husband metalsmithing was really interesting because I am right handed and he is left-handed -- so all his tools spin backwards! -- and I don't consider myself a really good teacher. So the process was, basically, "watch me do this" and thankfully he picked it up really well. It makes things easier on me, he makes me parts and I work on completed pieces. Then we get the car packed, get the booth made, we just get everything done and we hit the road!
When I first ran into him, Rick was the sous chef at a restaurant I was working at. During the day, I was already buying tools and starting to make jewelry, you know, and just figuring out what I was going to make. So, we hitched up and moved south from Maryland because I was like "I'm going to start my own business, let's go make a life by the ocean!" Let's do something interesting, you know!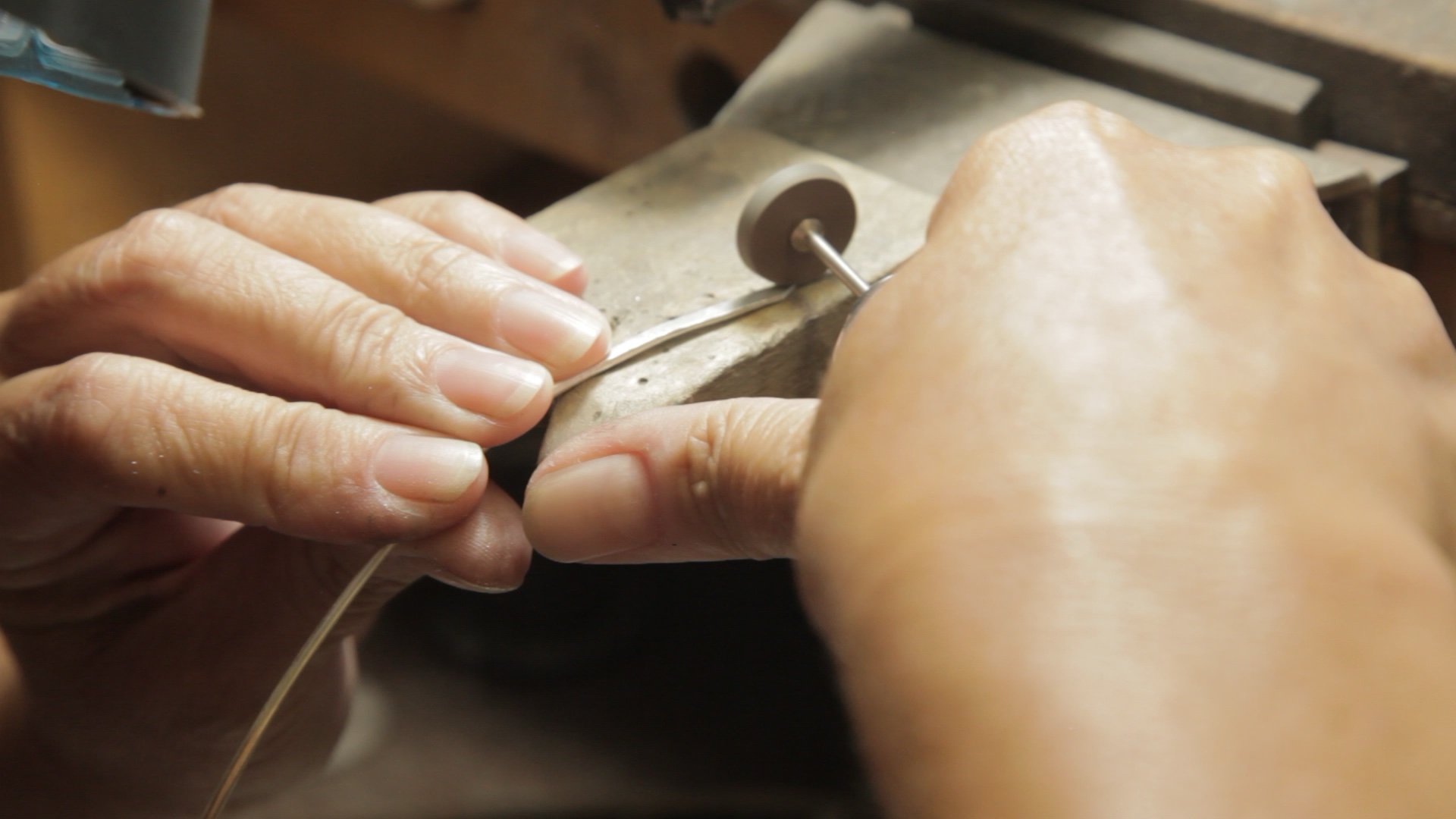 Barbara Shaping a Silver Wire
photo credit: Zoe Alexander
Rick helped me get my first inspiration while we were living in South Carolina, the low country. We were on the beach near Charleston when I found these beautiful sea urchin shells, they were so pink and purpley and I was freaking out. I was like, "what are they?" Rick looked at me and said "you should make something out of them." So I did! It sparked this whole idea and this whole journey into designing and working with different sea shells.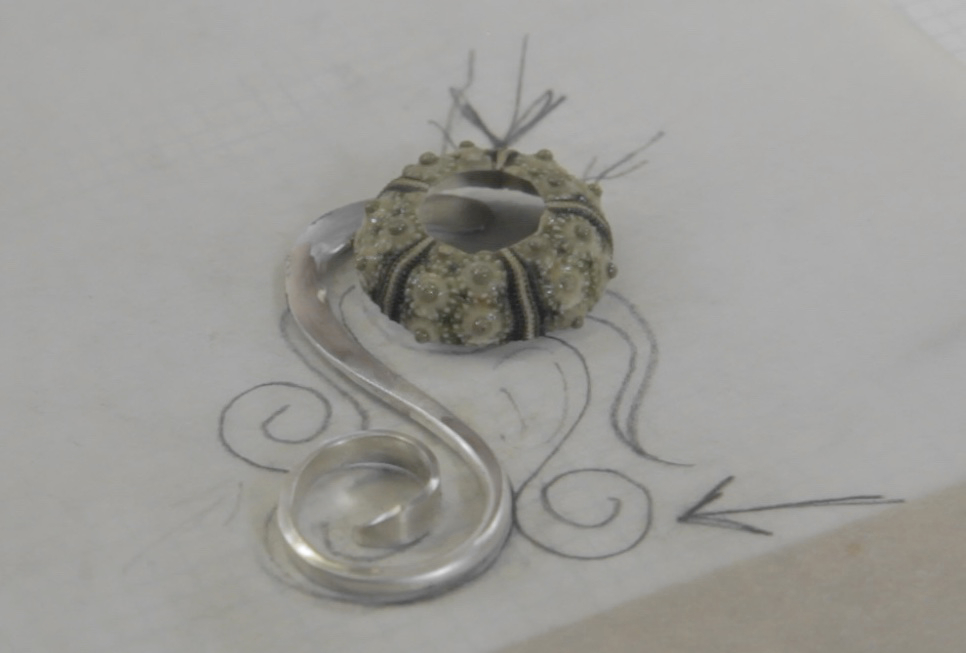 Jewelry in progress at Barb's Studio
photo credit: Zoe Alexander
That was when life really started pulling together for us. We moved to Florida and I got involved in the idea of making sea creatures, concentrating on mythical octopus and jellyfish. Things freely unfolding in the water. It's all about finding the elements, the people, the places, the pearls and the stones that compliment one another and make it all sing.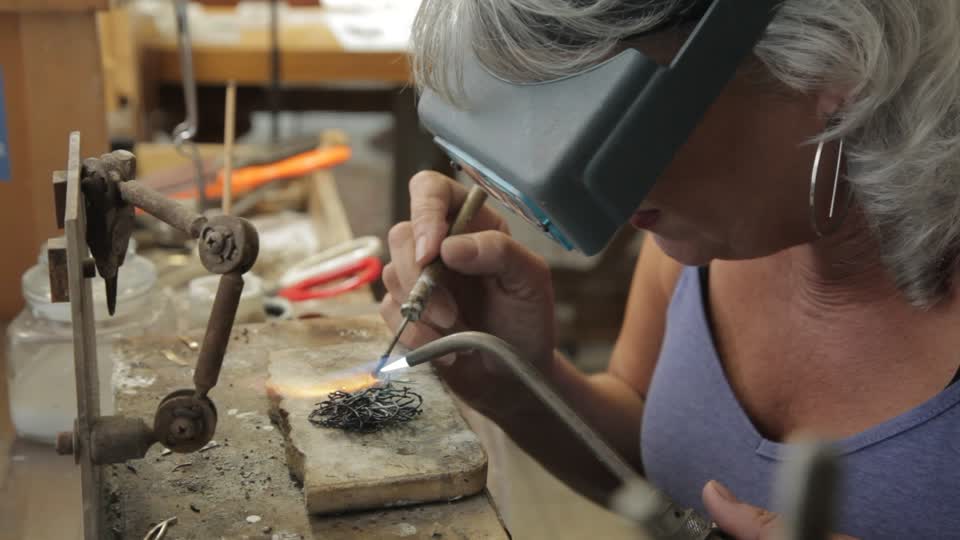 Fin -- Barbara Umbel
photo credit: Zoe Alexander
Founder and Curator.
Zach Weatherby, Web, Journal, and Accounts.
Zoe Alexander, Film and Media Director.
Ridley Aligerum, Marketing and Graphic Design.

With gratitude to the City of Lakeland department of Parks and Recreation, the Polk Museum of Art, the Polk Arts and Cultural Alliance, and all of our artists, patrons, and guests.
Betsy Bohrer,