Bohrer Gallery
Fine Art at the Magnolia 2021
Presents
Deb Holliday
on Simplicity, Caregiving, and the Overarching World of Nature
Aug. 13, 2021
Deb in her Studio
I have fallen in love with a printmaking technique called "collagraphy". What I love about it is its simple, low-tech approach. Copper etching and intaglio, which is the technique I've long been known for, can get really complicated with the metals and the toxic acids. I was never as interested in these technical aspects. Collagraphy is more low-tech and non-toxic, which I find really appealing.
Collagraphy is simply printmaking in which the traditional copper plate is replaced with carefully cut layers of paper. It's a 'collage' and a 'graph' at the same time. I really don't like to waste paper, and with collagraphy I get a little bit of recycle and reuse: any extra fallout or trim can be incorporated into the plate.
Positive and Negative -- Deb Holliday
Collagraphy has a much richer palette of textures than traditional copper plate, because a collagraphy plate can include more than just paper! People use lace, cheesecloth, silk, and all of these hold ink differently. I still have copper laying around in my studio. Maybe I'll do some simple etchings and marry them with the collagraph technique.
FAM2021 Date and Location
I think it's appealing to marry these different elements: various papers, metals, fabrics, and natural elements. You get a little of the technical, but also more spontaneity and energy. That's what I'm drawn to with the collagraphs, I get a little bit of everything. A little eclecticism. It's just like putting together a puzzle.
I've been looking after my mom this year. One interesting challenge, as I was traveling away from home, was that I couldn't take my press with me. I had to go take care of her, so I brought my sketchbook.
Exhibits in Deb Holliday's Studio
When she was at the doctor, or I needed to stretch my legs, I would turn to nature and I noticed the trees. The very old, old oaks you see here in the southeast. Beautifully twisted. I started doing line drawings of these, and I used these as the inspiration for a new group of work. Meditations on time, I guess.
There's something about the trees. With what I've been going through with my mom, I've been noticing the beauty, the marks, scars, and twists. Northeast Florida has a lot of twisted little hammocks. I haven't gotten to explore much with this idea yet, but every tree I'm constantly and obsessively observing.
Time has been passing oddly lately. It's becoming a theme with me, I notice time a lot. These things in nature are touchstones for me, a sign of normalcy. I look out my window and I see all these critters, things seem so normal. That's my experience. For these creatures, in their little natural world, things are ok.
Exhibit Detail -- Deb Holliday
Every morning, I take my dog Roscoe for a walk. To really capture the life of the animals, I only depict the birds I can see in my own neighborhood. We have deer, rabbits, eastern bluebird, brown thrashers, kites, all the familiar characters of my work. I've done a few baby bird rescues. I found a little baby bird by my mailbox and I had to rescue it, it was too young. Another thing I've really taken to heart are native plants. All my gardening is native wildflowers.
My subject matter is definitely still the overarching world of nature, although my themes and techniques are changing. I'm still infatuated with the flora and fauna of the southeast. As I grow in my understanding of my new materials, I keep rediscovering their life and their texture. Things are changing for me but I take comfort in nature, it will always be there.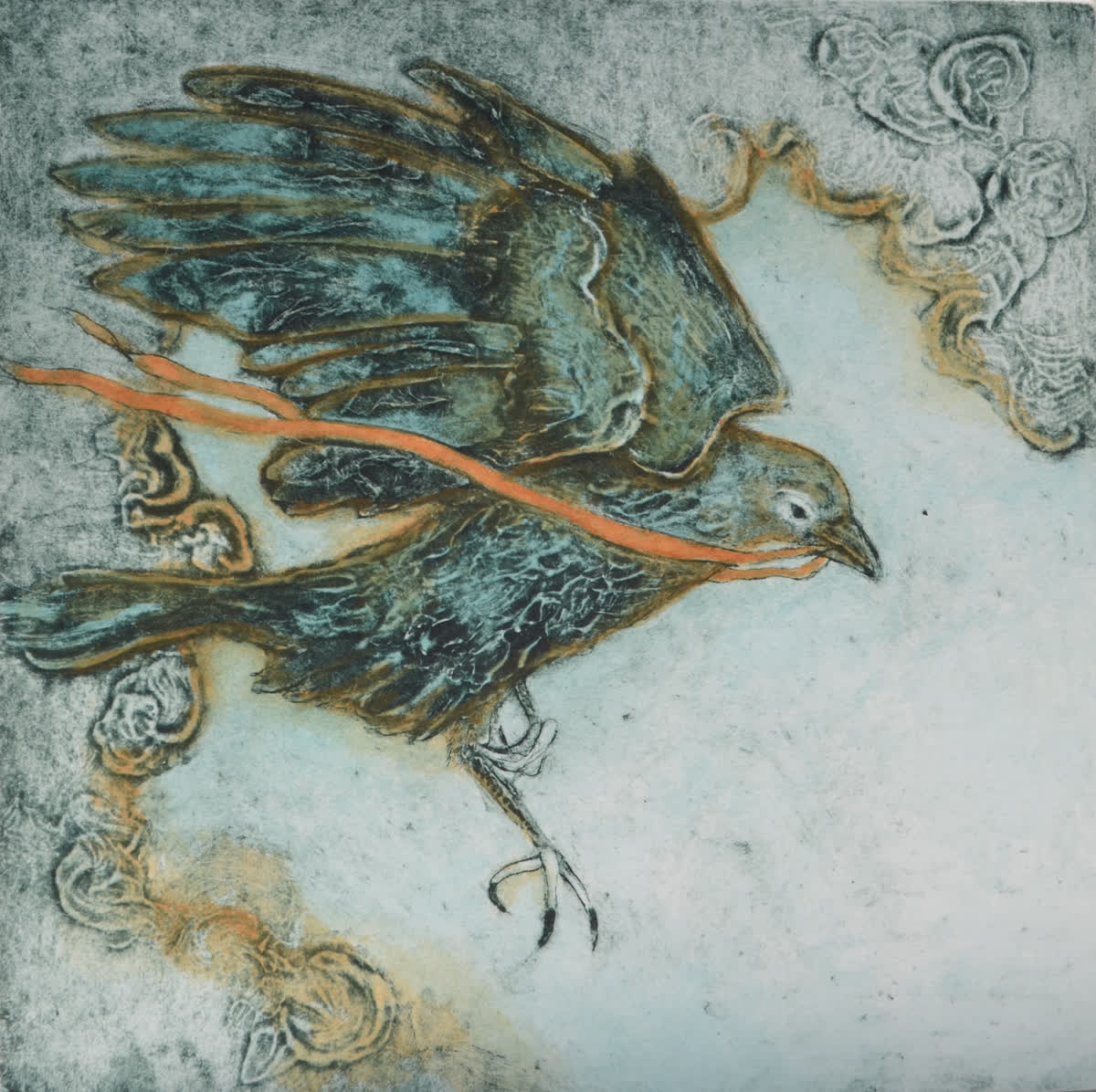 'Flight', by Deb Holliday
Founder and Curator.
Zach Weatherby, Web, Journal, and Accounts.
Zoe Alexander, Film and Media Director.
Ridley Aligerum, Marketing and Graphic Design.

With gratitude to the City of Lakeland department of Parks and Recreation, the Polk Museum of Art, the Polk Arts and Cultural Alliance, and all of our artists, patrons, and guests.
Betsy Bohrer,