Bohrer Gallery
Fine Art at the Magnolia 2023
Presents
Julie Latayan
puts herself on the pedestal
Aug. 3, 2023
Julie Latayan in her Studio
photo credit: Zoe Alexander
A quick note before the article: Julie was featured in our just-released official video for FAM2023, you can view it here!
I was a high school art teacher for five years, and teaching is a lot like parenting. When you get the kids doing that "I'm so great" dance, you can feel it too! It's like live music and being at a concert when everything works, you're there in your own vortex. I'd walk around the room and I could tell when the kids had that "I'm so great!" feeling. They'd say "Yeah Ferrall!", because I was Miss Ferrall then, and I'd say "share it, do that dance."
A Sculpture in Julie's Home
photo credit: Zoe Alexander
I'm a stepmom to three girls. When I married my husband they were two, three, and four so I helped to raise them. When they all grew up and started going to college, I had the saddest art that year. Women with empty houses on their heads with the doors open and curtains blowing through the open windows. All the lights on but nobody home. I met another female artist who was making sad art like I did at the time and we talked about our shared experience of empty nest syndrome.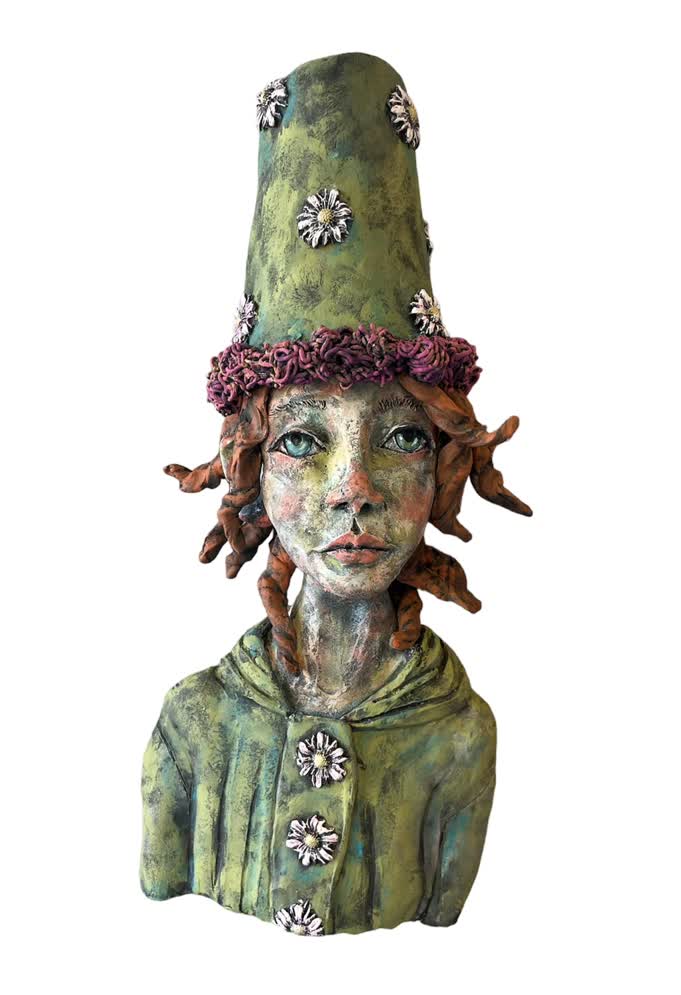 'Sundays Best', by Julie Latayan
Not long after, I checked her website and it said in huge bold letters "I'm no longer making sad art!" I realized "oh, that's the right idea!" and my cloud lifted. My daughter surprised me the other day, I had no idea she was coming over. I read somewhere that having a daughter is like "having a drunk girlfriend that thinks you're rich or something." Really, though, it was nice!
Celebrate our 7th Year with us!
I had been a painter my whole life, I drew caricatures at amusement parks and studied children's book illustration at school, but one day I told my husband "I was done" and I decided I was now a sculptor. He asked, "how do you know? What about all those canvases?" I answered "don't even look that way! You know how I know I like chocolate or I need to drink water or eat food? It's the same way." I just knew it was right, it haunted me. I was already experimenting with wood in concrete foam, and it just took some courage to buy the right equipment.
Julie at Work
photo credit: Zoe Alexander
Why did I make that decision? I don't know if it was confidence or just the need was so strong. The craving. There's a hunger in making art and it's hard to explain to people that don't make, but if it's not right I fall into a hole and I don't know where my day begins and ends. I really have to make art to feel like myself and to be fulfilled. I need to use my hands and my head –together– to build something every day.
Hands and Head
photo credit: Zoe Alexander
My sculptures today carry some influence from the illustrations I used to do. There's a bit of caricature sometimes where things are kind of playful and exaggerated. The facial proportions also come from portraiture, where the nose goes in the center of the face and the smile is about as wide as the pupils. I always paint my sculptures, and I start with a black undercoat before I scrub in my acrylics. I like a matte finish, so it's like a painting that came to life. I think it's kind of enchanting.
Sculpture or Painting?
photo credit: Zoe Alexander
I encourage people to take photos of my art at my shows. I'm not going to do the same thing again. I think teaching in high school makes you share more, so if you want to model or reference my work I'm not insulted by that. Some of the artists I've met are so private. I understand that, but I'm on to the next thing. I don't have any secrets either, and if someone can tell me how to do something better I'll listen. I don't have to follow, but I'll listen.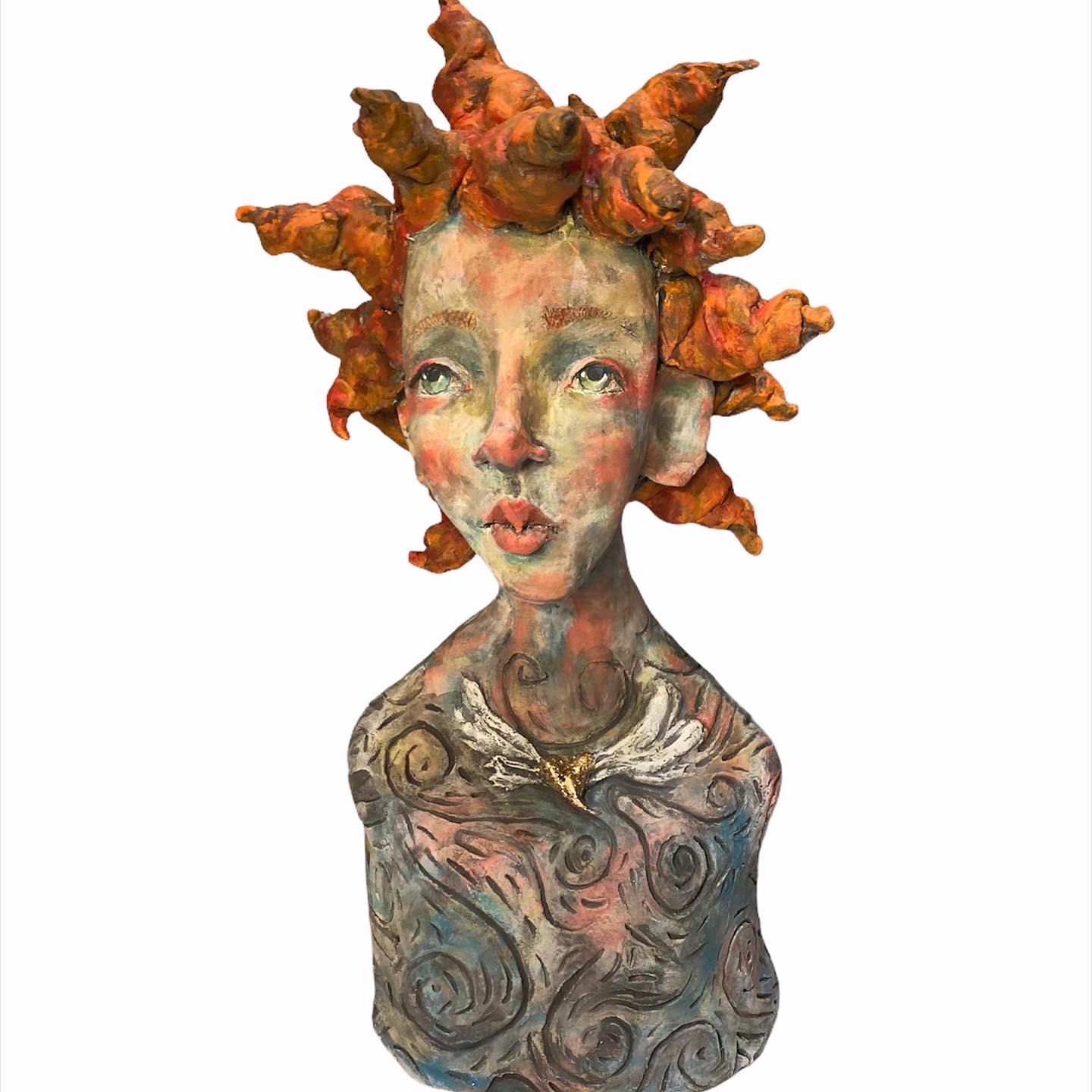 'Aviator', by Julie Latayan
Doing art shows is like being a gambler. I'm trying to plan my schedule for the next few months and all the shows need their booths paid in advance. So you put out all that money and then you've got hotel fees and your food and you go sit out in the sun or the wind or the rain for a weekend and not know if you're going to break even, or if one person will show up and make your whole event. It's amazing. You just try not to get discouraged, but I don't know what I'd be if I wasn't an artist. I have no idea.
Julie Being an Artist
photo credit: Zoe Alexander
I get all different kinds of reactions to my work. Sometimes people tell me my sculptures are sad, and I can see that as being true. People see the upward look in the eyes and ask if they're daydreaming, or "looking for a meteorite." Some of my artist friends have told me in confidence that they can't believe what people say to my face about my art, but I don't get insulted and I just kind of laugh. I even had a commission recently that asked for a monkey! And you know what, if you're asking you might as well ask for it all! Life's too short, ask for a monkey!
At the shows I sometimes sculpt small faces to pass the time and create conversation with people, it opens the door. I know at the shows some people are afraid that we're all sitting there demanding that you buy our art. But sometimes I'm just there to show you my art. Parents get excited and show their kids and I think it just takes away some of the anxiety of talking to new people. You know, part of the reason I'm there is to educate people and show them what can be done. Creativity is magic and I think you can feel it when you watch people work.
Julie Sculpting a Face in her Studio
photo credit: Zoe Alexander
It's very emotional to put yourself on the pedestal, as I do. When I share my art, I feel like I'm sharing the best parts of myself. Of course I start by making everything for myself, one has to, but then I go and put it out there for other people to take. If I don't go out there and show people what I made, how do I know if I'm communicating or on the right path? You can't make it just for yourself. Let's be friends, the kind of people that sit and eat together because they're so happy.
Fin -- Julie Latayan
photo credit: Zoe Alexander
You can meet Julie Latayan, and 19 more talented artists, at this year's Fine Art at the Magnolia. Be there at August 19-20, 2023 (Sat: 10-5, Sun: 10-4) in the Magnolia Building (702 E Orange St, Lakeland FL). Admission is free! You can preview the show at our official website:
thebohrergallery.com/fam2023.html
FAM is a team effort made possible by the family of Betsy Bohrer and its many community patrons, including our co-sponsor the City of Lakeland Parks, Recreation, and Cultural Arts Department, Michael Maguire, Broadway Real Estate, the Polk Museum of Art, DeGeorge Custom Frames, the Harrison School Visual Arts Department, the Hyatt Place hotel, Dr. Maneesha Chigurupati, and many private patrons. You can learn more about Fine Art at the Magnolia, and even become a patron yourself, by visiting the link below.
thebohrergallery.com/?booth=become_a_patron
Thank you!
-- Betsy Bohrer, Bohrer Gallery LLC.
Founder and Curator.
Zach Weatherby, Web, Journal, and Accounts.
Zoe Alexander, Film and Media Director.
Ridley Aligerum, Marketing and Graphic Design.

With gratitude to the City of Lakeland department of Parks and Recreation, the Polk Museum of Art, the Polk Arts and Cultural Alliance, and all of our artists, patrons, and guests.
Betsy Bohrer,