Bohrer Gallery
Fine Art at the Magnolia 2023
Presents
Margaret Baker
on the untold stories of everyday life
Aug. 7, 2023
Margaret Baker in her Studio
photo credit: Zoe Alexander
My mom used to paint florals as a hobby, back in the 70s, and they used to hang at the Baker Motel and Seasonal Cabins which my grandmother ran. Mom was very successful, in a way. Her paintings were, my father told me, the most commonly stolen item in the entire motel. When I was growing up, I remember how mom would set up in the basement, put on the black and white TV, smoke a cigarette and paint all evening with oil and turpentine and no ventilation. Things were different back then!
My dad was the family photographer, the collector of all the memories, and he just took a ton of photos of everything. When he passed I found seven moving boxes of slides I'd never seen before. Each box had about 25 reels and each reel had, like, a hundred slides in it. So we're talking thousands of slides, all from the 60s through the late 70s. I even found the old slide projector, which is great because of the "kachoonk-kachoonk" sounds it makes! A lot of my dad's photography was just "using up the film," you know, so his photos were often in the off moments. They're very natural and candid.
Dad's slide reel
photo credit: Zoe Alexander
A lot of what I paint today is from those family photos that my dad left me. Even my biggest paintings often start out as little tiny slides. When I'm picking a photo to paint I look for relaxed, slice-of-life scenes and those bright Kodachrome colors that old slides used to have.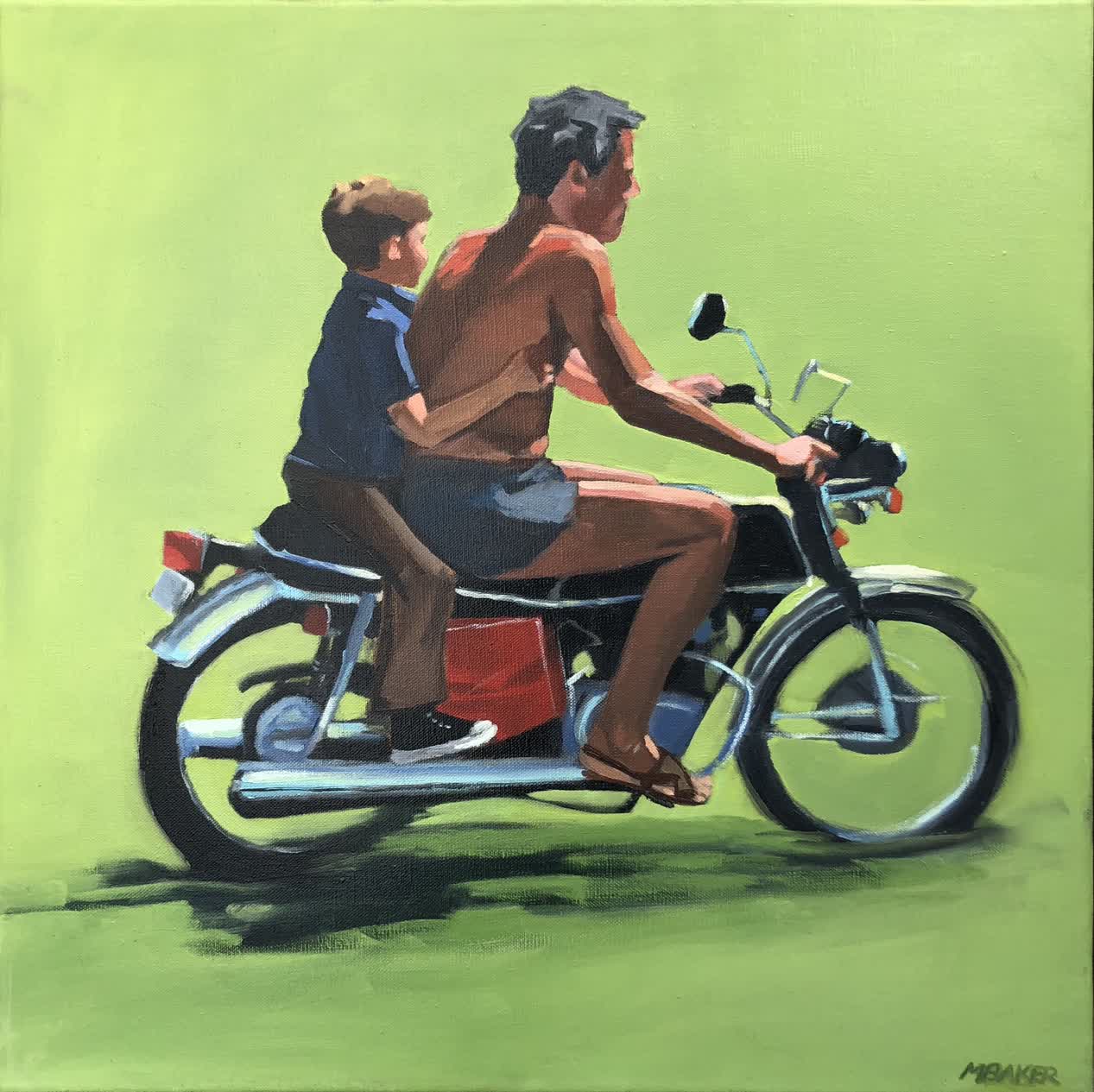 'Ride' by Margaret Baker
I've painted over a hundred slides. Scenes like the time my brother got introduced to guitars -- his superpower -- at age one, and vignettes of my mother's face, which I'm really attracted to. Studies of my grandmother, Edith, whose composed and above-it-all demeanor concealed a wild side. There's one kid in my archive, I've painted his entire summer vacation. Every time I paint him, he's very popular. I love summer scenes because they're so sun-drenched and green.
Summer scenes in Baker's studio
photo credit: Zoe Alexander
Another love of mine is, and I can hardly explain this, I just really love ugly couches. "Oh look," I'll say to myself, "another ugly couch, this one's from Israel!" Once I've picked one from my photo archive, I can spend weeks developing the zany mazelike patterns in the fabric. I'll even make it weirder in the painting than it was in the photo.
Margaret playing with the furniture pattern
photo credit: Zoe Alexander
I'm working on a commission currently. The client reached out to me through Instagram, he's from California. So I'm right in the middle of painting "Paddi and Phil" and their dog "Miscellaneous." I love the feeling of summer photos -- I like her smile, I love his hat, I love his pose -- so this one has been a fun one to paint.
Baker working on 'Paddi and Phil'
photo credit: Zoe Alexander
When I'm not painting my own photos or commissions, I go to thrift stores to find vintage, vernacular photography. The kind that wasn't made by professionals, old family albums and such. I picked this one up with these kids, I think it would make a great little painting. Mostly it's his smile, but I like the radio too.
A likely painting
photo credit: Zoe Alexander
Why does vintage photography appeal to me? Well, maybe it was forgotten in a junk shop, at first, but you can elevate it to a higher level, you know? Now it's a painting. It's more permanent, it gets a second look. It puts you back in that time, and in an unintended way it pulls on your emotions. People who resonate with my paintings often say "oh, that reminds me of such and such." Or "that's my uncle on that couch." I hear these things a lot. "That's so and so," "that's my mom," "that's my brother."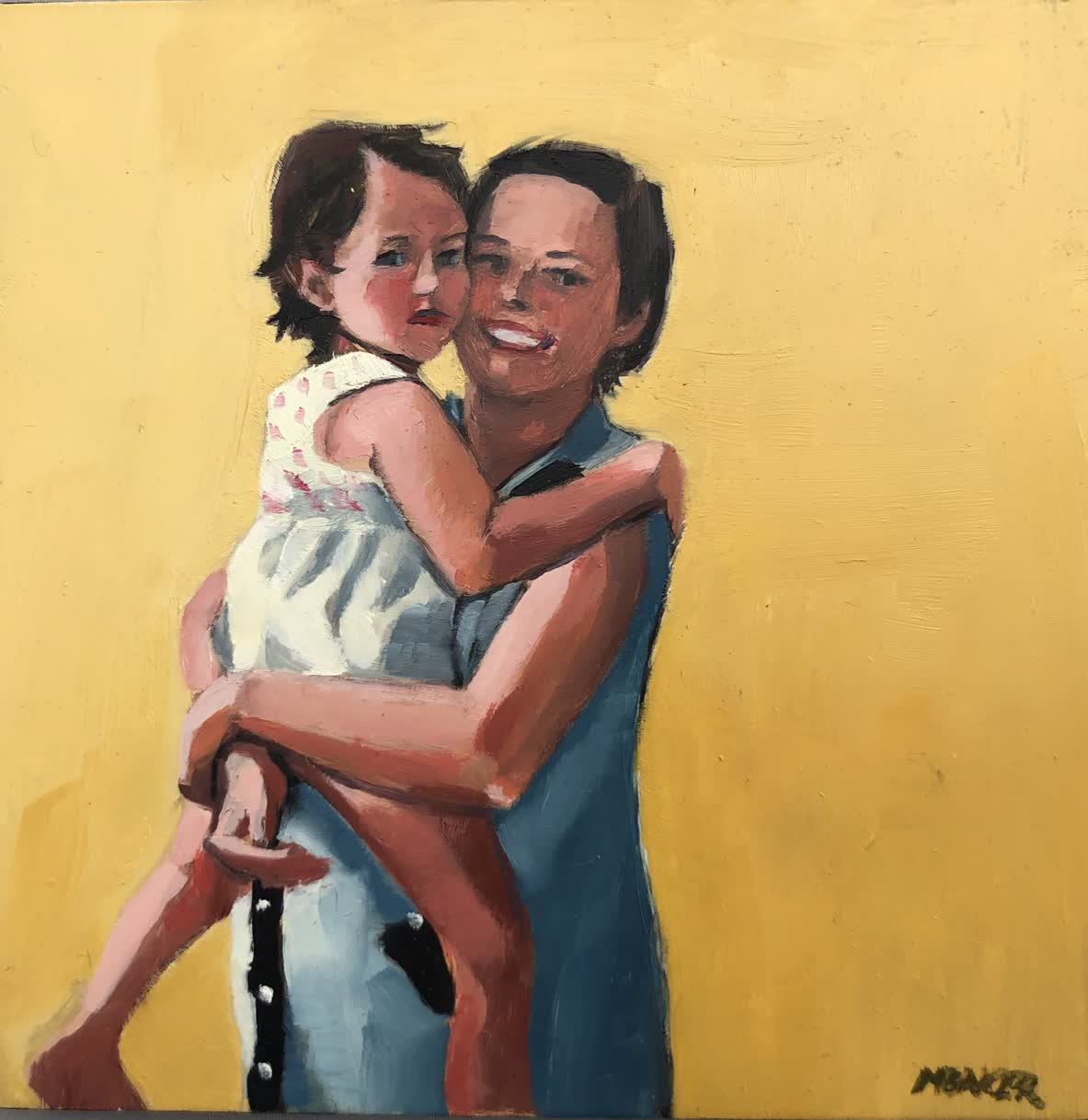 'Mom' by Margaret Baker
Sometimes, when I'm frustrated with a painting, I have to stop myself from using my scraper and scraping the whole thing down. If I'm working on a face, for example, I might feel like it's just not working out. It's so hard to get the likeness, where you feel like the person is really there. Then my inner critic comes out and I'm tempted to scrape it all off and start over, I've done that a few times.
Celebrate our 7th Year with us!
I learned to challenge that inner critic by taking photographs before I scraped a paining. Later on I'd be scrolling my phone and say to myself "hey, that's a good painting" before realizing "oh yeah, I scraped that one down!" What I was feeling in the moment maybe wasn't that it was bad. It was probably that I was hungry or tired or needed to drink some water. I've got a new habit now, I let the painting live. I let the frustration pass, I keep my options open, and then as the painting tacks up I'll decide if I have to make changes.
Margaret and her Paintings
photo credit: Zoe Alexander
Persistence is so important. It's a quality I really appreciate in a person, and which I try to express myself. Just keep doing it. If you're asking "can I do that?" the answer is probably "yeah, you can!" You just gotta do it, and keep doing it, even when you don't think it's very good. When my inner monologue starts speaking up, saying "oh that looks terrible," I'll literally just answer "stop." I continue to see how it goes. The continuing is the part that's really the hardest. I'm happy with myself and the place I've gotten to today, I'm not saying I'm successful but at least I'm persistent.
FIN -- Margaret Baker
photo credit: Zoe Alexander
You can meet Margaret Baker, and 19 more talented artists, at this year's Fine Art at the Magnolia. Be there at August 19-20, 2023 (Sat: 10-5, Sun: 10-4) in the Magnolia Building (702 E Orange St, Lakeland FL). Admission is free! You can preview the show at our official website:
thebohrergallery.com/fam2023.html
FAM is a team effort made possible by the family of Betsy Bohrer and its many community patrons, including our co-sponsor the City of Lakeland Parks, Recreation, and Cultural Arts Department, Michael Maguire, Broadway Real Estate, the Polk Museum of Art, DeGeorge Custom Frames, the Harrison School Visual Arts Department, the Hyatt Place hotel, Dr. Maneesha Chigurupati, and many private patrons. You can learn more about Fine Art at the Magnolia, and even become a patron yourself, by visiting the link below.
thebohrergallery.com/?booth=become_a_patron
Thank you!
-- Betsy Bohrer, Bohrer Gallery LLC.
Founder and Curator.
Zach Weatherby, Web, Journal, and Accounts.
Zoe Alexander, Film and Media Director.
Ridley Aligerum, Marketing and Graphic Design.

With gratitude to the City of Lakeland department of Parks and Recreation, the Polk Museum of Art, the Polk Arts and Cultural Alliance, and all of our artists, patrons, and guests.
Betsy Bohrer,