Bohrer Gallery
Fine Art at the Magnolia 2022
Presents
Leslie Peebles
on Children's Books, Vedic Legend, and the Soulful Handcrafts
Aug. 13, 2022
Leslie in her Studio
photo credit: Zoe Alexander
I came to printmaking in kind of a roundabout way. I got my degree in drawing and painting, and then I had a family so I got a master's in art education because that was the practical thing to do. After my first year of teaching middle school, a friend of mine decided "I hate printmaking! I never want to use these materials ever again. Do you want all this linoleum and ink for your students?" And I said, "why, yes!"
As I got into it, printmaking really began to sing to me. I find the process so meditative and nourishing in a soulful kind of way. If I were behind a computer screen, I would not feel happy and nourished and soulful, you know? I feel that block prints, which are carved by hand, they have a sincerity that digital can't quite copy. Even the mistakes make it Zen, you know, the quirks are what make it special and beautiful.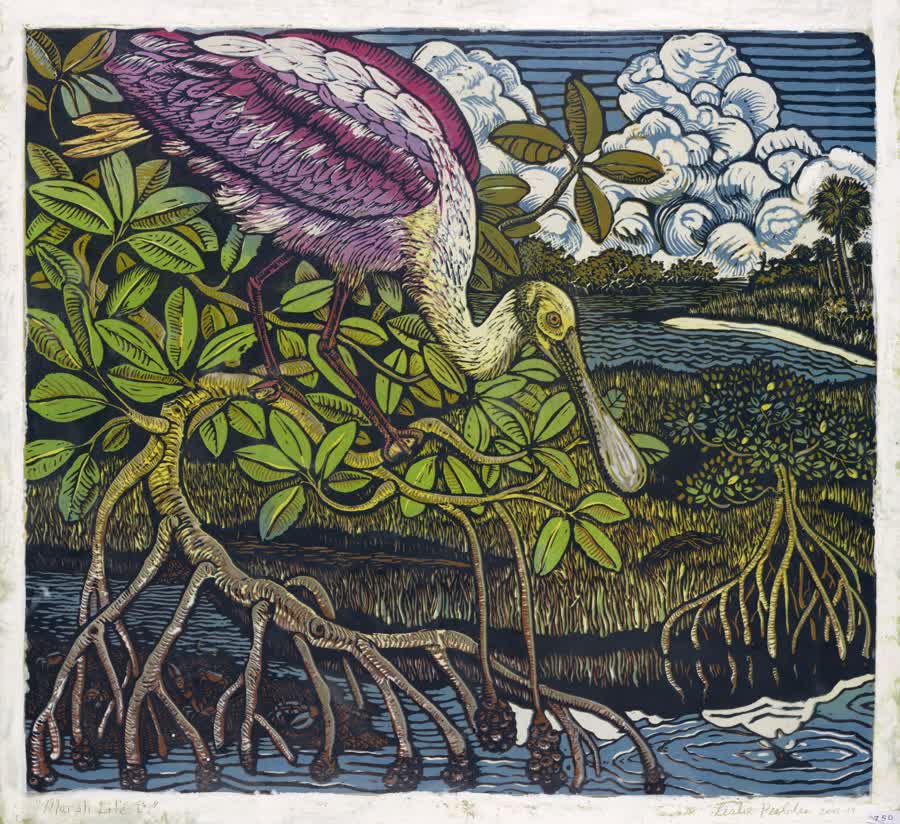 'Marsh Life I', by Leslie Peebles
A few years in, I had this good friend that was collecting letterpress equipment and I got interested. Eventually, I had a complete machine and typography set and I thought, oh, I want to do an ABC book for my grandchildren! Thousands of hours later, I'm still doing it!
Leslie's Letterpress
photo credit: Zoe Alexander
I love this machine. Most books are printed on something like a Vandercook, which is automatic, but this is a classic hand-cranked movable-type letterpress. It's got these wonderful paper stops and it registers really nicely and easily. All the type is kept in these little trays underneath.
My book presents the animal kingdom in alphabetical order, so "gopher tortoise", "hawk", "ibis" and so on. I've done a ton of new small pieces that are part of the book. Here's a really nice page that's fully colored:
Selected Book Page -- Leslie Peebles
photo credit: Zoe Alexander
The engraved lines just give the pages this energy and this dynamic movement and I love that about printmaking. I mean, it's like it describes some sort of unseen spiritual thing that's going on, you know? An aliveness that's beyond what we tend to notice. Here's another page:
Another Selected Book Page -- Leslie Peebles
photo credit: Zoe Alexander
I intend to make about 40 books and 10 proofs, and I will be stitching the binding and hand-making a cover for it. It's an incredible amount of work, it's unbelievable, but during covid it was the most relaxing, nourishing, calming thing I could possibly do and I really got a lot done. I'm up to the L-M-N-O-P section now. It's going to be about 72 pages, and in the end I hope it will be a self-published book that's family-friendly and kid-friendly. Because it's for kids!
Leslie with Book Pages
photo credit: Zoe Alexander
Printmaking is an art, and in the course of work I've made my share of funky, misprinted, and misaligned pages -- enough to make a few books, actually. But because I feel that the little imperfections make the book special I think I will gift these "artist proof" editions to my grandchildren. My niece has helped me with editing, so I'll give one to her as well.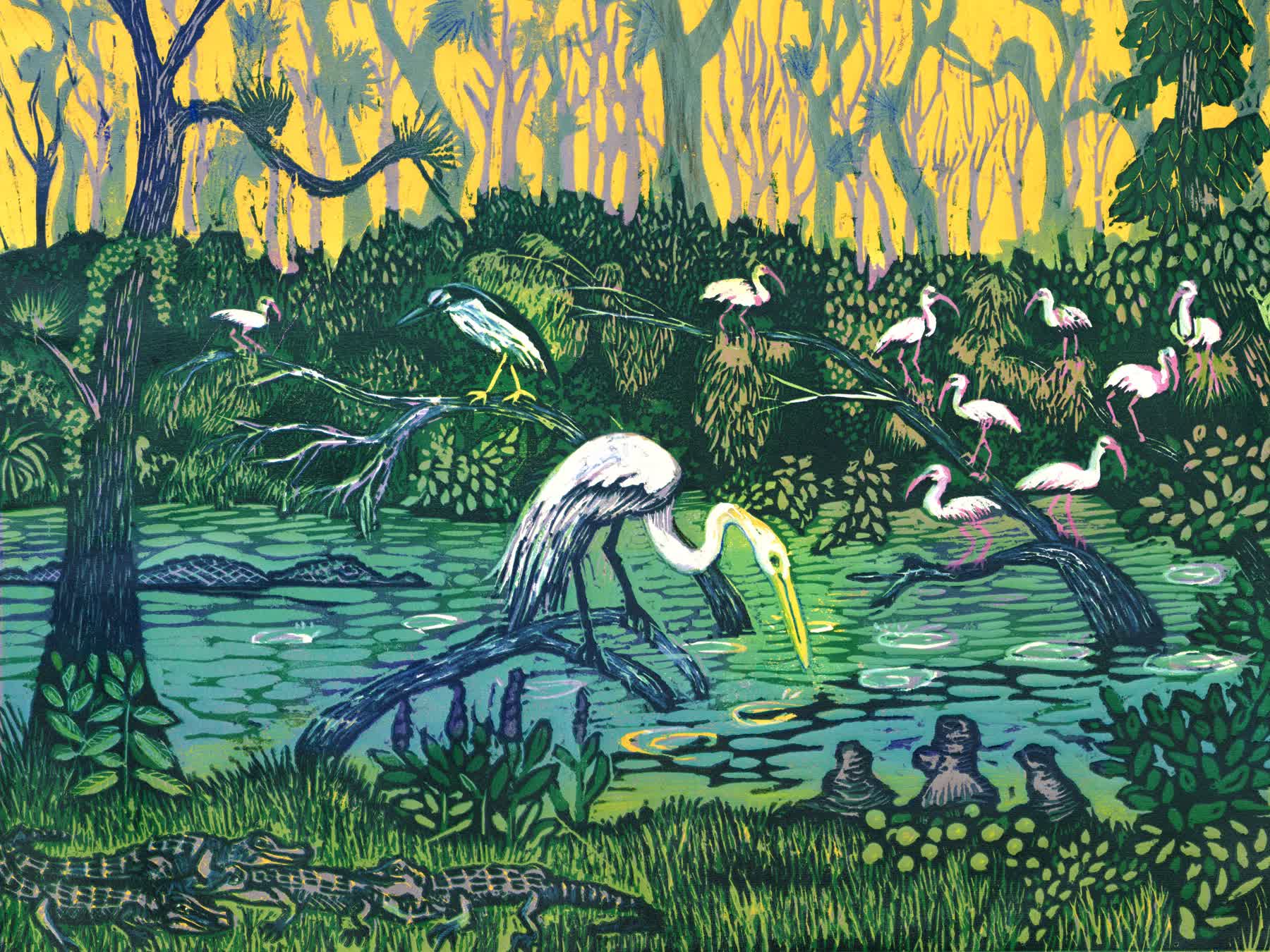 'Loose Screw Pond', by Leslie Peebles
I'm from Gainesville, and as much as I love the coasts I love our forests and springs, too. I guess I'm equal parts "beach girl" and "swamp girl", so you know, it's perfect. When I'm not involved with my book, I make large-scale linocuts about the tension between humanity and our oceans and forests. This piece, for example, it's about sea level rise.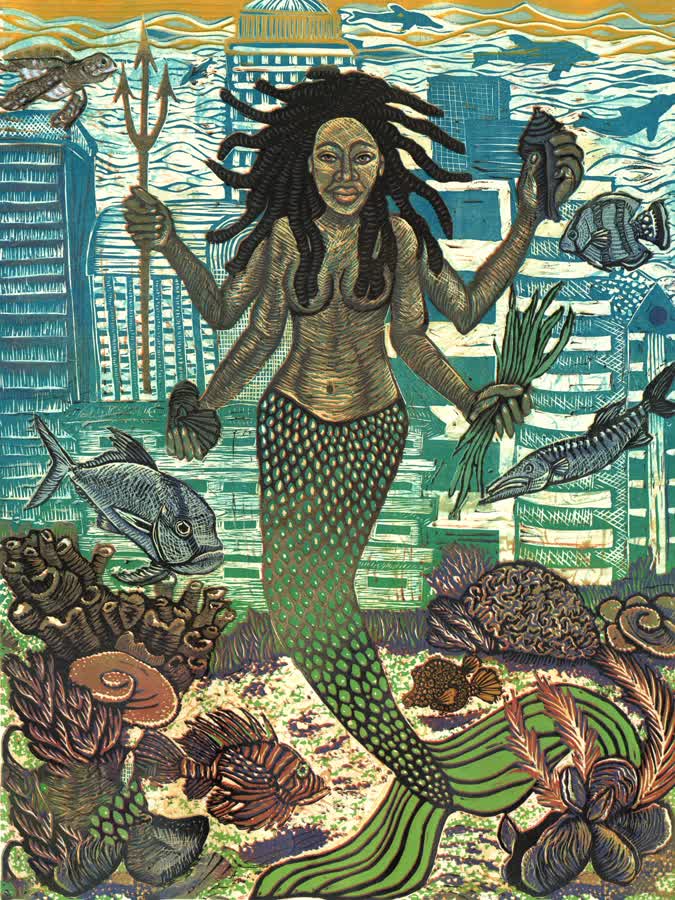 'Ocean's Protector', by Leslie Peebles
Her four arms invoke Vedic legend, where Kali and Shiva are forces that clear away old ways and bring in new ways that will nourish and sustain and benefit all of life. In her lower hands are mollusks and sea grasses, which clean and restore the health of our waters. In her upper arms she has the conch, which is a call to action, and the trident, which represents storms and natural disasters. She's a brand new piece, one of my covid pieces. I saw her in a dream.
This piece, which I called Goethe Triptych, it portrays these giant old-growth cypress that were left standing because their knobs and twists and curves weren't useful to loggers.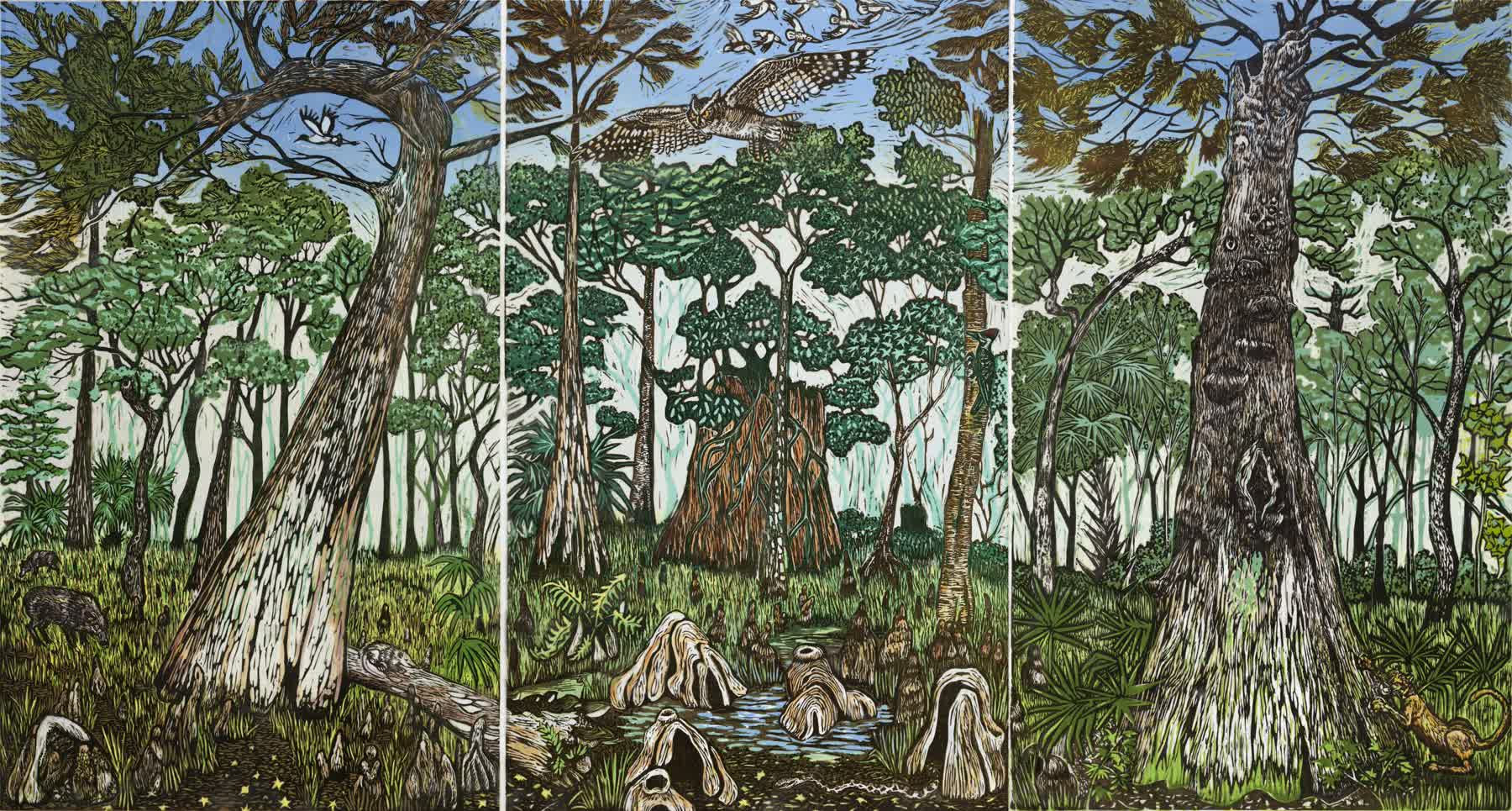 'Goethe Triptych', by Leslie Peebles
All of this work is in my hands for hour, upon hour, upon hour, you know, and by the time I finish a piece I've put in maybe 100 hours depending on the size. But that's the soulfulness.
Linocut Carving -- Leslie Peebles
photo credit: Zoe Alexander
No two prints ever turn out the same way, and I find that I'm OK with that. I find the imperfect so much more evocative the perfect, I'm even a tad rebellious against perfectionism because, well, I've struggled with it in the past. There was a time, actually, when I was so shut down and unable to work because things weren't perfect enough! So, I allowed myself to be a beginner and make awkward art so I could grow. Perfection is just a shiny mask, and what's underneath that mask is so much more real. I changed my mindset about 25 years ago and, you know, the path opened up for me.
Fin -- Leslie Peebles
photo credit: Zoe Alexander
Founder and Curator.
Zach Weatherby, Web, Journal, and Accounts.
Zoe Alexander, Film and Media Director.
Ridley Aligerum, Marketing and Graphic Design.

With gratitude to the City of Lakeland department of Parks and Recreation, the Polk Museum of Art, the Polk Arts and Cultural Alliance, and all of our artists, patrons, and guests.
Betsy Bohrer,