Bohrer Gallery
Fine Art at the Magnolia 2021
Presents
Stephen Koury
on Safari, the Zone, and New Beginnings
Aug. 13, 2021
Stephen Koury in his Studio
photo credit: Zoe Alexander
In Africa, while leading safaris, you're on dirt roads in the bush and stuff happens. It doesn't mean you're stupid, or did something wrong, it just happens. African dirt roads are a bit like driving through backwoods Florida. You can't see around the corner. Everywhere you go, you go slow because game is everywhere. Even on the major highways in South Africa, you're like "there's a giraffe, and zebras!" You're going slow all the time.
When I would take a group of tourists out it would be in a Volkswagen "combee", which is a really strong van with a bunch of windows. One time I had a combee with 6-7 tourists, and behind that a low trailer filled with everyone's suitcases because we were moving from one camp to another.
FAM2021 Date and Location
We were coming around a corner just as this huge bull elephant stepped out on the road, BOOM. We had just crossed a little bridge, and elephants don't give way -- you give way. When he saw us I swear he got twice as big. They have this ability, oh my god they get huge!
So, he started walking toward us, and we started backing up, trying to keep the trailer from jackknifing and there's still that bridge behind us. I'm watching and I'm like "Everybody hold still, don't move!" I'm also thinking "man, I was just trying to do a nice photo safari and I'm going to get everyone killed!"
Elephants don't give way -- you give way.
We couldn't back up anymore. I looked in the mirror and the trailer was completely sideways, jackknifed. He came up close to the van and looked down at us. I remember his trunk, elephants do a thing like a "sneaky sniff" where they keep the trunk down low. He was doing that! So I knew then that he wasn't mad, I realized it was curiosity. Like "I'm gonna see what I can find out", not "I'm going to crush this car like a tuna can".
He shook his head, made a big cloud of dust, and turned away. I came home and made a painting about that. It's called "wisdom", because I think he was trying to achieve or learn something. He had an earring hole in his ear that made him unique and recognizable. You can tell one elephant from another by the shape of the ears, the face and the high forehead -- but he has a really defining hole in his left ear.
Wisdom the Elephant, displayed in Koury's Studio
photo credit: Zoe Alexander
There's a continuation to this story. One of my students went to Africa, three years ago, and took a bunch of photos of elephants. She brought the photos to the workshop and was going to paint an Elephant using them, and as I looked at her photos I was like, "that's Wisdom!" She flipped out, "that's Wisdom?" It was "Wisdom", and he's bigger, thicker, more mature now.
When you look one of these animals in the eyes you know they're thinking, they're not vacant -- in their world they are brilliant. They think and feel and have as rich a life as we do.
Man, I was just trying to do a nice photo safari and I'm going to get everyone killed!
There's a lesson I learned a long time ago. I was talking to a guy about my paintings and he said, "you've captured the essence of the animal". I'm like "wait, what do you mean?" Well, it means if you saw the silhouette you would know what it was. If you just saw it move, you'd know. I keep going back to that concept. The essence is what I'm trying to capture. Not just a flower or butterfly or bird. I want to capture the essence so you can smell it, feel it, and watch the light bleed off the leaves. That's me, that's what I try to do when I paint.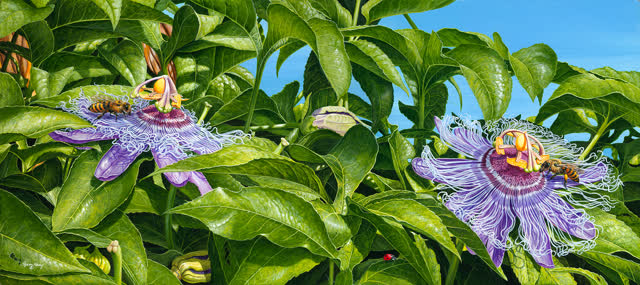 'Sisters', in which Steve captures the essence of a flower in his garden
When I'm painting, man, I get in this zone. Everything just clicks, it's effortless. I've had it happen to me in sports, too. Honest to god, this sounds crazy, in college I would be at the plate batting and the pitch was coming in, the minute the ball left the pitchers hand time just slowed down! Everything clicked and I just crushed it. That's the zone, I don't know how you consistently get there but you do.
Flower in Steve's garden, inspiration for 'Sisters'
photo credit: Zoe Alexander
When I paint it's the same way. If I haven't painted in a while, it's kinda laborious. I get self conscious, and fussy with the paint mixture. But after a while, man it is rote. It just flows! It's just like meditation. Time doesn't mean a whole lot when you get to that zone. It's getting into the zone that's tough.
I want to capture the essence so you can smell it, feel it, and watch the light bleed off the leaves.
I've got my brain conditioned: when I step in my studio the garbage stays outside and in here it's creativity. This is my zone, I put myself here, and I'm ready to go.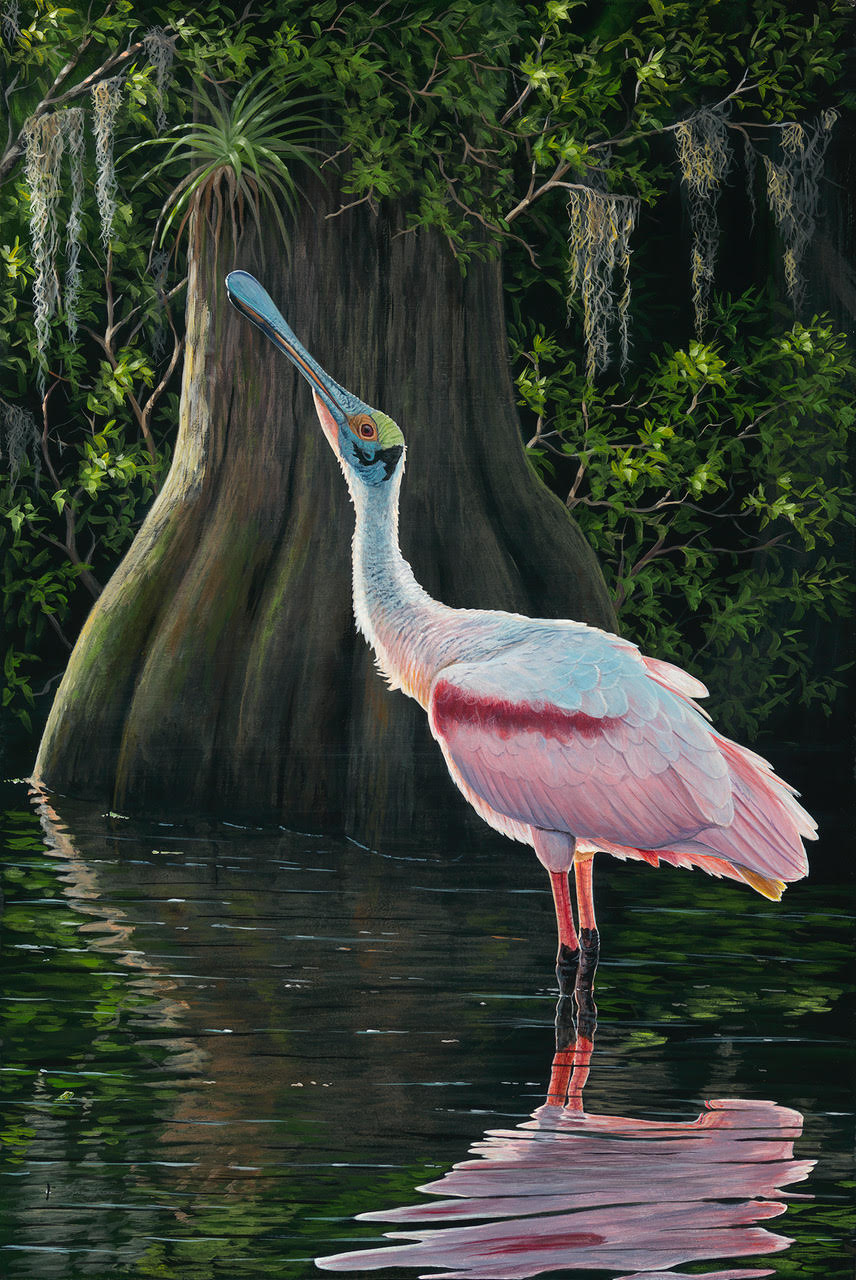 'Morning Salute', by Stephen Koury
My daughter, Sage, started college this August and my house feels big already, and really quiet. So my life is kindof in flux right now. I'm deciding who I am and what I am. It's cool, it's a good start, a new start.
As those strings start to get cut, I'm discovering this new freedom. I'm a motivational painter, and I get my motivation by getting out there and chasing bugs, birds and critters. I've gotta see stuff and experience things, then I paint it. Maybe I'll build out my van and take a road trip, take the long way just to see America again. Although we're lucky in Florida for bird life, this place is loaded. It's pretty amazing.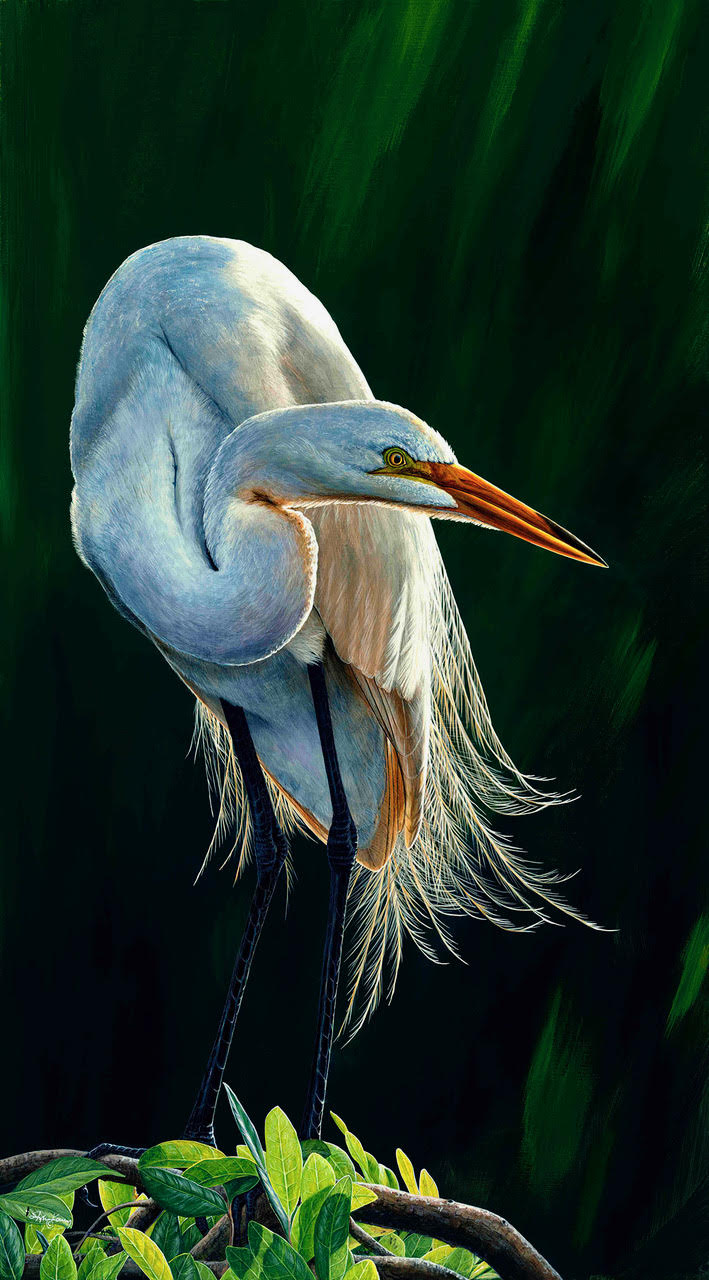 'Great Light, Great Egret II', by Stephen Koury
So long as I have internet access, I can teach a workshop wherever I am. I do a Wednesday online zoom class, every week and love it. I also teach in-person painting lessons from my home, twice a month. As the students paint, I paint, so I often start new paintings in the workshop and complete them afterward. I love doing these, love the interactions and watching people learn how to make things look real and round, the lightbulbs coming on. It's therapeutic!
Art's cool! I wish more people painted, did art, pottery, sculpture, they'd be so much happier, truly.
Founder and Curator.
Zach Weatherby, Web, Journal, and Accounts.
Zoe Alexander, Film and Media Director.
Ridley Aligerum, Marketing and Graphic Design.

With gratitude to the City of Lakeland department of Parks and Recreation, the Polk Museum of Art, the Polk Arts and Cultural Alliance, and all of our artists, patrons, and guests.
Betsy Bohrer,