Bohrer Gallery
Fine Art at the Magnolia 2022
Presents
Whitney Powell
on Patience, Serendipity, and her Love of the Outdoors
Aug. 13, 2022
Whitney in her Studio
photo credit: Zoe Alexander
I was a product of the 70's, when we kind of raised ourselves. Before latchkey kids became a thing. I grew up in "Lake of the Ozarks", a little tiny cottage in a resort where there were only people around in the summer, so I spent a lot of time out in the woods.
I've always loved foraging for things that remind me of the places I've gone. Driftwood, cool rocks. I think anybody that has a fondness for nature does that. If I'm outside on a walk and I see something cool, I might not even know what it is, I might pick it up and see if I can incorporate it in one of my baskets.
Basket Displayed in Whitney's Home
photo credit: Zoe Alexander
Depending on what time of year it is, my daughter goes to school and I have probably six or seven hours a day to work on a basket. So it became my full-time occupation in that way. I work one stitch at a time, layering fiber into the basket similar to coiling a pot. With each row that I do, I can change the angle of the wall to give it shape. It's a very relaxing and methodical process, a lesson in patience.
I don't time anything out. I often will have several pieces in process at one time, so if I get tired of working on a piece I just move on to the next piece and work on it for a while. Sometimes I notice that I could join two pieces together! My main goal is to always have something new to move on to.
Another Basket Displayed in Whitney's Home
photo credit: Zoe Alexander
The hard part, for me, is knowing when I am finished with the piece. Beauty is in the eye of the beholder, so there is no definition of "perfect" that is always and everywhere true. I just try to make all my pieces equally satisfying to me, I rely on my own intuition.
I like to mix my foraged materials with imported twisted seagrass, danish cord, fiber rush, and sweet grass (which is really yummy smelling). I particularly love the texture and the blue-red tones of seagrass. I've worked with Willow tree fiber, which needs to be soaked for several hours to become pliable, and sustainably harvested Mulberry bark.
Whitney's Fiber Collection
photo credit: Zoe Alexander
I took a big creative risk by breaking away from the functional shapes of traditional basketry. I "coil" my baskets instead of weaving them, and I get the freedom to just go in any direction I want and make something unusual. I really enjoy the fluidity of my materials and the roundness I get from this coiling technique. If I were doing a square traditional weave or a plaited basket, counting the stitches and changing the colors periodically, my choice of shape would be so much more limited.
Each basket is always different, I never have a planned design. I could have a band of fiber split away from the basket body and reincorporate it into the basket somewhere else, if I wanted to. I continue to break the rules in this way, bending and forming each layer until the shape of the basket happens naturally. I've tried to duplicate some of my baskets in the past, but I find that it's impossible. The shape grew out from the materials I happened to be using.
'Vicissitude', by Whitney Powell
When you're doing free-form work, like painting or pottery, you have to absolutely just let it happen. I was experimenting with pottery once, and my clay fell apart and collapsed on the wheel. It was discouraging at first, but now I had this new, fantastic shape on the table in front of me. And you could almost never make that shape again, right? I like it when my materials surprise me, the serendipity appeals to me.
A lot of people are surprised by how firm my baskets are. Given only the photos, they may seem like a loose pile of fiber. It's a bit hard to describe how they're actually deliberately coiled in that shape and they will hold it forever because of the stitching and the row placement.
Whitney at Work
photo credit: Zoe Alexander
I've been making baskets for a long time, and I used to put a lot of embellishment and decoration on my baskets. I eventually realized, after spending so much energy on ornamentation, that I wanted to make the basket itself more the focal point. The bare fiber takes on this living, organic look of something that might be growing on the floor of the forest. So I started evolving the shape of my baskets, leaving them all in their natural colors so they can speak for themselves. Let the beauty be in the object, not what's on the object.
I felt like something had to be elaborate or decorated to be appealing, or to be interesting, and I did enjoy that way of working for a while. But eventually I felt that the ostentatiousness was becoming a distraction. Maybe, as I got older, I mellowed out more and my sense of importance changed.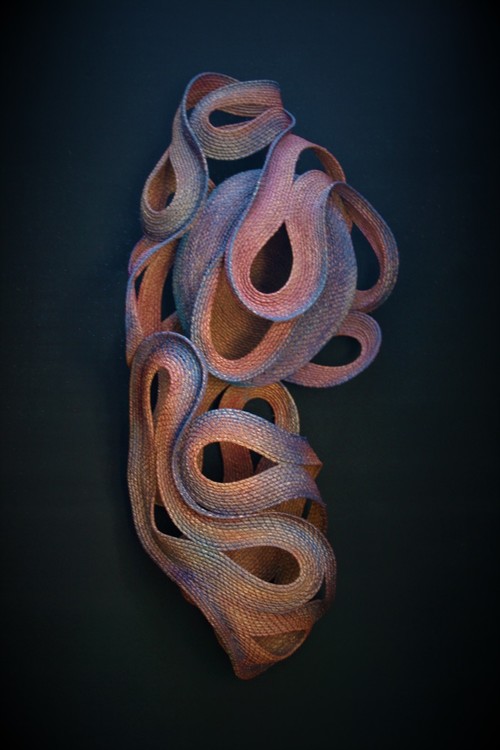 'Chrysalis II', by Whitney Powell
I've always been trying to be what my nephew called, when he was little, "a maker of things." I've always been making stuff with the materials available to me. It gets me up in the morning, knowing that my baskets need me, you know. There's always another piece. I'm really just making this art for me, and I've had a low public profile with my basketry, but I'm okay with that and I kind of thrive on it. It keeps me busy and focused, and I've been doing this steadily and consistently for probably 18 years.
Fin -- Whitney Powell
photo credit: Zoe Alexander
Founder and Curator.
Zach Weatherby, Web, Journal, and Accounts.
Zoe Alexander, Film and Media Director.
Ridley Aligerum, Marketing and Graphic Design.

With gratitude to the City of Lakeland department of Parks and Recreation, the Polk Museum of Art, the Polk Arts and Cultural Alliance, and all of our artists, patrons, and guests.
Betsy Bohrer,