Bohrer Gallery
Fine Art at the Magnolia 2023
Presents
Joyce Curvin
on joy, connection, and paper mache
Aug. 7, 2023
Joyce Curvin in her Studio
photo credit: Zoe Alexander
A quick note before the article: Joyce was featured in our official video for FAM2023, you can view it here!
I always have about five different projects going all at the same time, it's my usual way. Grandfather clocks with garden-inspired paper mache worlds inside them, dogs and cats, and tropical birds with colorful paper feathers.
A tropical bird in Joyce's home
photo credit: Zoe Alexander
A couple times each year I teach paper mache sculpture at Dunedin Fine Art Center. It's really fun to share this art form with others, many of whom may have experienced it in elementary school. I always tell new students that "if you have to miss a class, don't miss the first one because it is the most important!" In the first lesson we make the armature, or skeleton, of the figure. You have to get the right movement and personality in the armature early on, or you're going to fight with it the whole rest of the time.
Joyce prepares the armature of a dog figure
photo credit: Zoe Alexander
One of the main rules of my class is to remember that the piece is a cartoon. The idea is to capture a feeling rather than the exact and specific features of an animal. I encourage students to let go and have fun on this first piece and then go for a more realistic look with the next project.
Finished dog figure in Joyce's home
photo credit: Zoe Alexander
People really respond to my dog, cat and bird sculptures -- my "Art-Official Pets." I make some specific breeds of dogs but primarily mutts and rescue animals. The idea is to capture moments: a dog's excitement for a walk, the cat's cunning and calculating mind, a bird's quirky head turn, just those little glimpses of personality.
Celebrate our 7th Year with us!
I really like to work with recycled materials in my art, and give castaway things a new life, I think it started when I was growing up. My sister and I wanted a skateboard, so my dad said "well, there's plywood out in the garage and you have those old skates that go on your shoes." (You may not remember this, but back in the day there used to be skates you could strap on to your shoes). He challenged us to take those and turn them into a skateboard, so that's what we did! It was really fun, and I'm grateful for that lesson because now I often ask of the things around me "how can I use that differently?" and "how can I how can I adapt that to something else?"
Joyce brings a new figure to life
photo credit: Zoe Alexander
I recently did a project called "Clearly Collaborative" with master glass artist Duncan McClellan. I was invited, along with eight other artists including Dominice Gilbert, to incorporate a piece of Duncan's glass into my work. I ended up doing two pieces, and when those sold it was just the coolest feeling! All I needed was that opportunity and for somebody else to say "I really believe in what you're doing." I think that made a huge difference for me.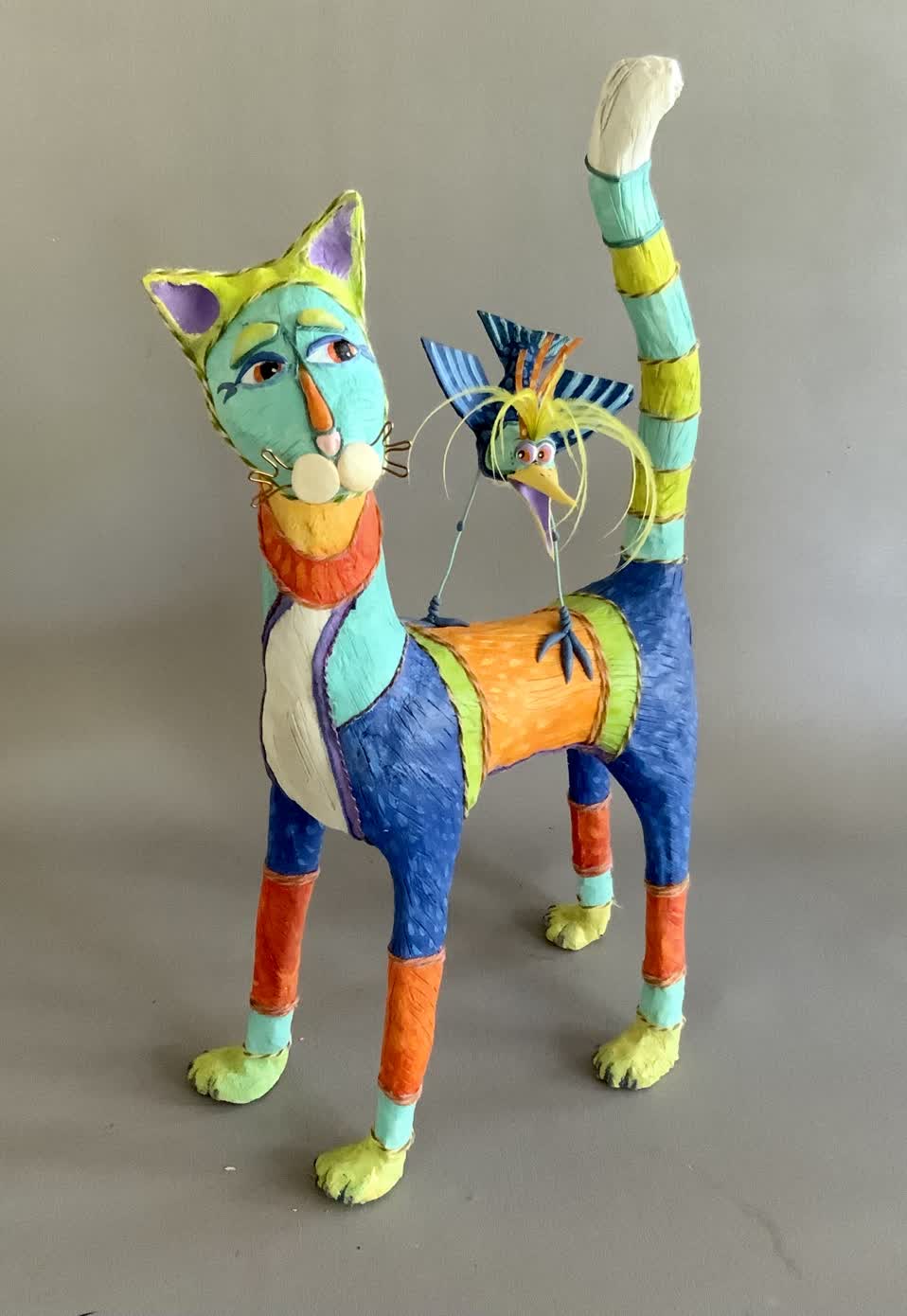 'Fancy that!' by Joyce Curvin
Sometimes my pieces turn out just like my original idea but other times they end up leading me another way. There was a time I was intending to make a big dog figure, and as I looked at it I realized "oh my gosh, you're a horse!" — that's just what it was. I don't really know why that happened, but you just have to embrace it.
Joyce studies a work in progress
photo credit: Zoe Alexander
I name all of my larger sculptures and I give them each a little story. I often have collectors stop in at shows and say "I've got your dog so-and-so and I just love him and he's so good!" I always like to hear that. In fact, after the hurricane Ian pummeled Sanibel and Captiva, one of my collectors wrote me an email saying "just so you know, I rescued my dogs. Here's a picture of them!" Another lady wrote "I sent my neighbor over to get the dogs out before the hurricane!" which I thought was very sweet and quite humbling, too, to know folks make the artwork a part of their family.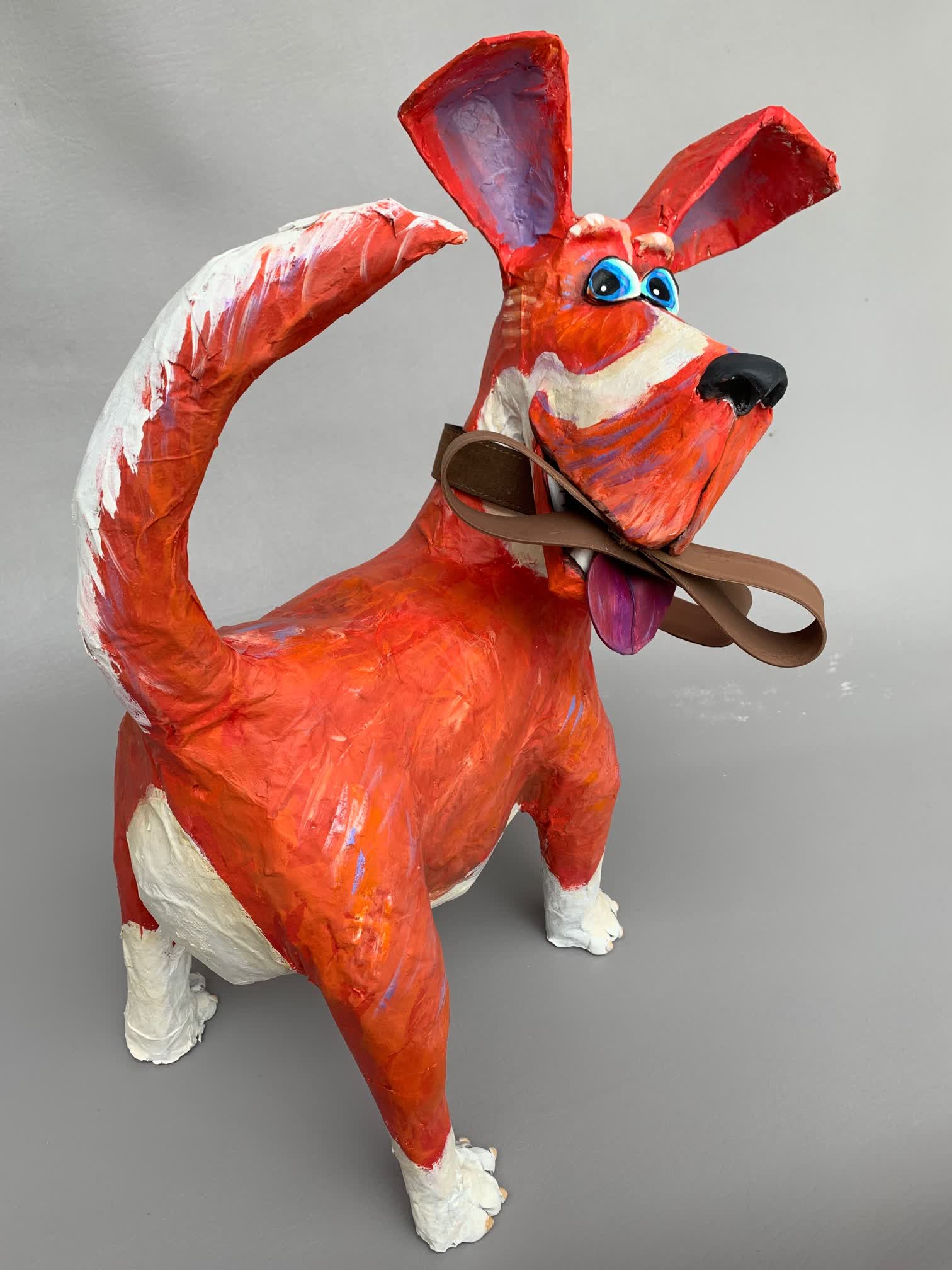 'Red Dog Looking Backward' by Joyce Curvin
It took me a while to realize that the function of my art is to make people happy. I think people are understandably frustrated with the world being the way it is now, so they want something joyful in their house that they can come home to and say "oh, look, it makes me so happy when I look at that. It just makes me laugh!" I really like that. That's when I feel like I've hit the mark, you know, I've done what I meant to do.
FIN -- Joyce Curvin
photo credit: Zoe Alexander
You can meet Joyce Curvin, and 19 more talented artists, at this year's Fine Art at the Magnolia. Be there at August 19-20, 2023 (Sat: 10-5, Sun: 10-4) in the Magnolia Building (702 E Orange St, Lakeland FL). Admission is free! You can preview the show at our official website:
thebohrergallery.com/fam2023.html
FAM is a team effort made possible by the family of Betsy Bohrer and its many community patrons, including our co-sponsor the City of Lakeland Parks, Recreation, and Cultural Arts Department, Michael Maguire, Broadway Real Estate, the Polk Museum of Art, DeGeorge Custom Frames, the Harrison School Visual Arts Department, the Hyatt Place hotel, Dr. Maneesha Chigurupati, and many private patrons. You can learn more about Fine Art at the Magnolia, and even become a patron yourself, by visiting the link below.
thebohrergallery.com/?booth=become_a_patron
Thank you!
-- Betsy Bohrer, Bohrer Gallery LLC.
Founder and Curator.
Zach Weatherby, Web, Journal, and Accounts.
Zoe Alexander, Film and Media Director.
Ridley Aligerum, Marketing and Graphic Design.

With gratitude to the City of Lakeland department of Parks and Recreation, the Polk Museum of Art, the Polk Arts and Cultural Alliance, and all of our artists, patrons, and guests.
Betsy Bohrer,